Topic Archives:
Dark Lord Day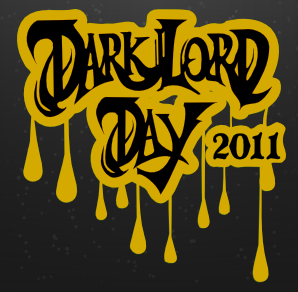 3 Floyds Brewing has issued some updates about Dark Lord Day 2011. Including variations of Dark Lord soon to be rare and very expensive….
1. Gates open at 10:00 am
2. The Darklord bottle limit will be 4 bottles per person, $15.00 per bottle.
3. There will be a lottery for extremely limited, hand bottled, hand numbered barrel aged variations.  Guests will exchange their event tickets for a Golden Ticket with a scratch off section.  If their ticket scratches off as a winner, they will have the opportunity to purchase one bottle of one of the four variations in addition to the 4 bottles of Darklord.  The variations are:
Darklord aged in Pappy Van Winkle 23 year barrels
Darklord aged in brandy barrels
Darklord aged in brandy barrels with vanilla beans
Darklord de Muerte, DL aged in bourbon barrels with ancho and guajillo peppers
These hand bottled, hand numbered, hand waxed bottles will sell for $50.00
4. All purchases on Darklord Day are cash only.
Some of our Guest Drafts:
Founders Breakfast Stout
Founders Nemesis
Founders Kentucky Breakfast Stout
Founders Backwoods Bastard
Founders Newaygo County Cherry
Founders Devil Dancer
Founders Double Trouble
Victory Smoked & Oats
Victory Headwaters Pale
Victory Braumeister Pils
Schlafly Kolsch
Schlafly Imperial Stout
Van Steenberg Monk's Ale
Brewdog Paradox Smokehead
Bells Batch 10,000
Bells Oatmeal Stout
Left Hand TNT Weizen Doppelbock
Dogfish Head My Antonia
Dogfish Head Worldwide Stout
Dogfish Head Old School Barleywine
Dogfish Head Burton Baton
Ommegang Gnomegang
Bruery Saison De Lente
Bruery Loakal Red
Bruery Old Richland
Goose Island Bourbon County Stout Rare
Schlenkerla Fasten Beer
Schlenkerla Oat Smoke
Schlenkerla Maerzen
Futhermore Knot Stock
Futhermore Oscura
La Rulles Estivale
Aventinus Eisbock
Sierra Nevada Oliva Dubbel
Oakshire Heart Shaped Box
Oakshire Imperial Overcast Espresso Stout.
Plus a couple more on the way…