Topic Archives:
Conflux Collaboration Series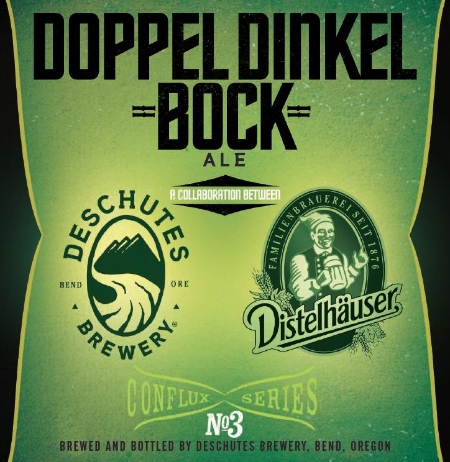 This third Conflux Series brew features a collaboration with Distelhauser Brewery of Germany who have been brewing beer since 1811. A connection between our two breweries was discovered over 10 years ago, so we thought it was high time we created a beer together to celebrate this beautiful friendship! Our brewmasters decided on a Doppel Dinkel Bock or Imperial Spelt Beer. Spelt is an ancient wheat traditionally used in baking bread. In the beer, it creates a malty flavor with hints of spice, clove, banana and a trace of citrus. This beer is smooth, full bodied and super drinkable! Prost!
Conflux Series
Availability: Late June in 22oz. bottles and on draft in limited quantity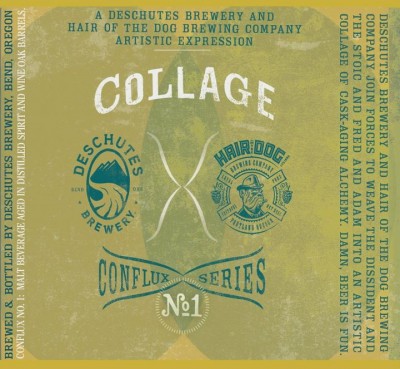 Deschutes Brewery is working on a second Conflux Series Collaboration, this time with Hair Of The Dog.   (The first was Conflux #2, or White IPA, brewed with Boulevard Brewing.)
The beer is actually a blend of 4 beers.  Deschutes Dissident and The Stoic.  Hair of The Dog Fred & Adam.  As stated on the label "Aged in distilled spirit & wine barrels."
Deschutes Brewery and Hair Of The Dog Brewing Company join forces to weave The Dissident and The Stoic and Fred and Adam into an artistic collage of cask-aging alchemy.  Damn, beer is fun.
Style: American Strong Ale (Barrel Aged)
Availability: 22oz bombers, Draft
Arrival: May 14, 2012
11% ABV 
Boulevard Brewing (Kansas City, MO) is collaborating with Deschutes Brewing (Bend, OR).  This summer the world will meet "White IPA."  Interestingly enough, this beer doesn't involve travelling to each other's breweries.  White IPA is based off a single shared recipe, becoming unique as each brewery produces it.  Boulevard specializes in Belgian style witbiers, while Deschutes loves the hops.  Both breweries will release this beer under their own labels.
From the Sales Sheet For White IPA:
Despite the beers' shared recipe, each of the two versions will develop a distinct, unique identity, to be reflected in their naming and packaging. Boulevard's half of the equation, christened Collaboration No. 2, will be distributed throughout their 20-state region in kegs and 750ml bottles, as part of the Smokestack Series seasonal lineup. Brewed at their Bend, Oregon facility, Deschutes' effort will be the second beer in their new Conflux collaboration series, and will be distributed throughout their 18-state region in kegs and 22-ounce bottles.
Style:Belgian IPA
Availability: 750ml Bottles, Draft.  All regions where Boulevard & Deschutes is distributed.
7.5% ABV
Deschutes Brewing will be distributed in Missouri soon. June – July launch date.