Topic Archives:
Cervecerias La Cruda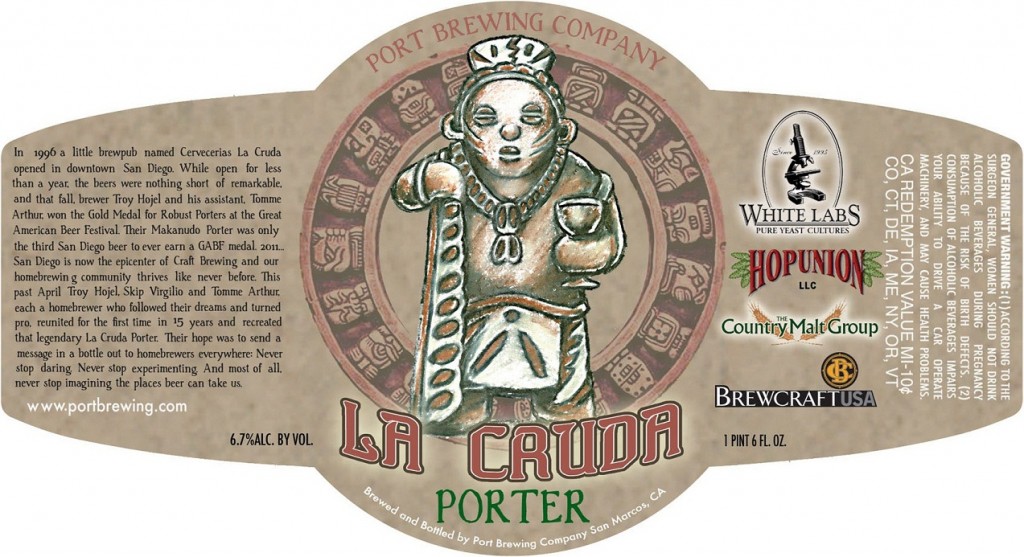 Tomme Arthur of Port Brewing got his start at Cervecerias La Cruda (The Hangover Brewery) in San Diego California.  He was the assistant of Troy Hojel at the time, creating recipes that he still uses at Port Brewing.  La Cruda closed it's doors in March, 1997.  After that, Arthur then went to work for White Labs, a leader in yeast creation/sales.  By May of 1997 Tomme Arthur was hired by Port Brewing and the rest is history.
Tomme & Port got the band back together to brew a recipe from the Hangover era – Makanudo Porter, now bearing the closed brewery's name – La Cruda.  In the name of homebrewing, La Cruda pays homage to brewing suppliers like White Labs,
In 1996 a little brewpub named Cervecerias La Cruda opened in downtown San Diego.  While open for less than a year, the beers were nothing short of remarkable, and that fall, brewer Troy Hojel and his assistant, Tomme Arthur, won the Gold Medal for Robust Porters at the Great American Beer Festival.  The Makanudo Porter was only the third San Diego beer to ever to earn a GABF medal.  2011… San Diego is now the epicenter of Craft Brewing and our homebrewing community thrives like never before.   This past April Troy Hojel, Skip Virgilio and Tomme Arthur, each a homebrewer who followed their dreams and turned pro, reunited for the first time in 15 years and recreated  that legendary La Cruda Porter.  Their hope was to send a message in a bottle out to homebrewers everywhere: Never stop daring, Never stop experimenting. An most of all, never stop imagining the places beer can take us.
In the name of homebrewing, La Cruda pays homage to brewing suppliers like White Labs, HopUnion, BrewCraftUSA,  & The Country Malt Group.
Style: Porter
Availability: 22 oz bottles, draft. Brewed for American Homebrewer's Conference in June.  Draft potential in San Diego area.
6.7% ABV