Topic Archives:
30th Anniversary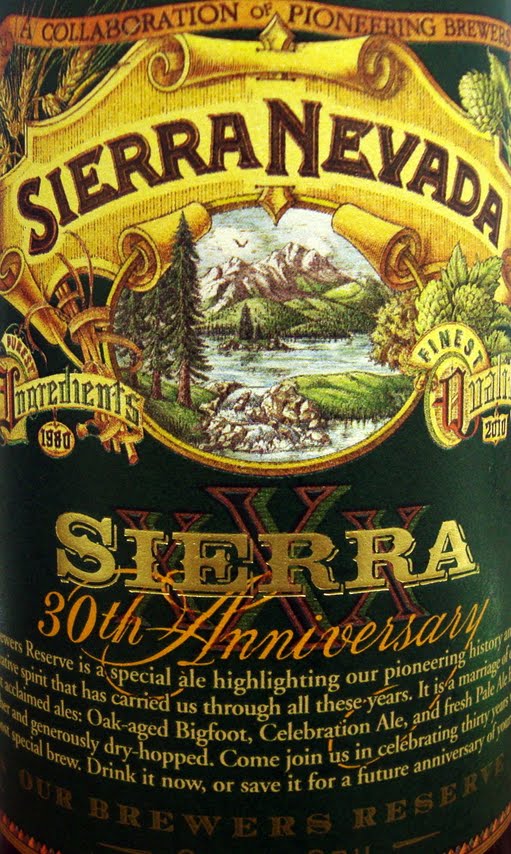 The 4th and final edition of the Sierra Nevada Anniversary series has arrived.  The series elebrates 30 years of  craft brewing.  To fully commemorate this occasion, the Chico, California brewery is releasing 4 very special releases.  Three have been released thus far – Jack & Kens Ale, Fritz & Ken's Ale, and Charlie, Fred & Ken's Ale.  The forth and final edition is here – "Our Brewer's Reserve- Oak Aged Ale". (Formerly called, "Grand Cru".)
Commerical Description:
Brewers Reserve is a special ale highlighting our pioneering history and the innovative spirit that has carried us through all these years. It is a marriage of our three most acclaimed ales: Oak-aged Bigfoot, Celebration Ale, and fresh Pale Ale blended together and generously dry-hopped. Come join us in celebrating thirty years with this most special brew. Drink it now, or save it for a future anniversary of your own."
Style: American Strong Ale (oak aged)
Taste Expectations: Oak, and spicy hop notes. Caramel in nose & flavor.  Definitely woody.  Reminiscent of Bigfoot. Touch of vanilla.  A complex beer.
Availability: 750 ML Corked & Caged Bottles. Draft.  One time commemorative release.
9.2% ABV
Looking for this? In stock – Green's, Hop City, Tower, Mac's