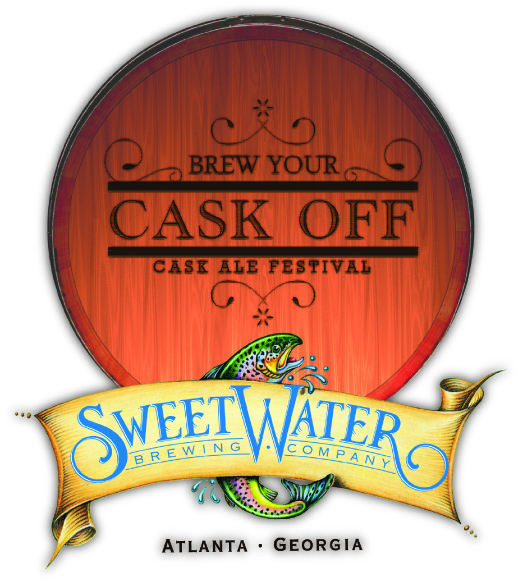 SweetWater Brewing's 3rd Annual Brew Your Cask Off is coming up in March.  Below is a list of writers, restaurants, home brewers, & more will participate.  Check out the big list below.  Grab your tickets soon.  
SWEETWATER BREWERY'S 3rd ANNUAL "BREW YOUR CASK OFF"
FESTIVAL ANNOUNCES LINE UP
ATLANTA (Feb. 24, 2012) — SweetWater Brewery once again gears up for its 3rd annual Brew Your Cask Off festival hosted at the brewery Saturday, March 10 from 6-10 p.m. The amped up cask ale festival will play host to the sampling of more than 100 unique, and creatively named cask ales. Featuring roughly 90 special guest brewers from the Southeast, this year's list includes the likes of beer writers, restaurateurs, retailers, home brewers, charities and more including:
15th Street Pizza & Pub, Ale Yeah!, All About Beer Magazine, The Atlanta Journal-Constitution, Allgood Lounge, Atkins Park Tavern, Atlanta Humane Society, Aubrey's, Bearden Beer Market, Bhojanic,Brewhouse Café, Brewmasters of Alpharetta, Brick Store Pub, Carolina Ale House, Cheeky, Chops & Hops, Covert Hops Society, Creative Loafing, Cypress Street Pint & Plate, Dantanna's, Deckard's American Tavern, Draft Magazine, Fado Irish Pub, Final Gravity, Five Points Bottle Shop, Fontaine's Oyster House, Gas South, Georgia Ale & Lager Sirens, Georgia Organics, Gibney's Pub, Green's, Hand in Hand, Here to Serve, Hob Nob, Hop City, Hopjacks, Hudson Grille, INHBC, JDRF, Jones Is Hungry, Mac McGee's Irish Pub, Mac's Beer & Wine, Manuel's Tavern, Marietta Pizza Company, Marlow's Tavern, McCray's West Village Tavern, Meehan's Public House, Mellow Mushroom (2 participating locations), Ormsby's, Park Tavern, Ri Ra Irish Pub, Rocky Mountain Pizza Company, Sherlock's Beer & Wine, Six Feet Under, South City Kitchen, Southern Brewing News, Square Pub, Steinbeck's, Summits Wayside Tavern, Taco Mac (2 participating locations), Tap, Team United Distributors, The Beer Connoisseur Magazine, The Beer Growler,The Charleston Beer Exchange, The Dunwoody Restaurant Group, The Family Dog, The Five Spot, The Fred, The Marlay House, The Midway Pub, The Porter Beer Bar, The Tavern at Phipps, The Vortex Bar and Grill, Thirsty Monk, Total Wine & More, Tower Beer, Wine & Spirits, Trackside Grill and Patio Bar, Tyler's Tap Room, Upper Chattahoochee Riverkeeper, WGCL's Better Mornings Atlanta, Wild Wing Café,Williamson Bros. BBQ
Each guest brewer is paired with one of SweetWater's brewers and asked to select from a plethora of ingredients to create their own one-of-a-kind cask to be presented and tasted at the festival. Entered casks will be sampled and ranked by a handpicked group of judges from the Atlanta scene, along with a vote for the People's Choice Award from festival guests. Winners will be announced that evening at the festival. The judges' top three casks, along with the People's Choice cask, will have their brews recreated and served at the SweetWater 420 Fest, April 20-22 in Candler Park.
In addition to the specially-created cask ales, festival guests will have the opportunity to enjoy SweetWater's award-winning lineup of lip smackin' brews and eats from several renowned Atlanta food vendors. The festival will also include live music from Betsy Franck & The Bareknuckle Band and tours of the brewery. Brew Your Cask Off is a Happy Ending Productions event sponsored by Hop City Craft Beer & Wine, The Midway Pub, United Distributors, Creative Loafing, The Country Malt Group, Hop Union, Draft Magazine, All About Beer Magazine, Owens-Illinois Inc.
Festival event space has nearly doubled this year and will remain tented in front of the new brewery making this event rain or shine. Tickets are $35 per guest for online pre-sale and $40 per guest at the door. All tickets include unlimited cask samples and a souvenir tasting glass. Pets are not allowed and guests must be 21 and up with a valid form of ID. For more information and to purchase tickets, visitwww.brewyourcaskoff.com.