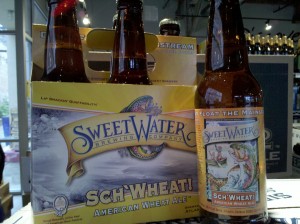 Sweetwater Brewing's (Atlanta, GA) newest year round offering – Sch'Wheat American Wheat Ale has officially been launched and has now expanded to tap handles in Atlanta.  Sch'Wheat replaces Summer Hummer.
American wheat ales have a moderate wheat character and are brewed with American yeast strains.  Citrus and spice are noticeable in American wheat ales, less banana and clove like many German hefeweizens you might have had.  Hops are definitely more prevalent in American wheat ales.  Sch'Wheat! Is intended to be kind of a gateway beer by Sweetwater.  There is still a huge part of the beer drinking population that has never even tasted a craft beer, much less an unfiltered beer full of wheat.  Not every craft beer is one that you would want to hand to a friend to try hoping to get them hooked on craft beers (some are so bold in flavor, it could be a turn off.)  This offering of Sch'Wheat! aspires to be a transition into the world of craft beer with a light, subtle, easy drinking session beer.
Available year round in 12 oz/6 pks and draft.
Sch'Wheat is Taco Mac's beer of a month.  Have a glass of Sch'Wheat on Thursdays starting at 5pm and keep the glass.  (While supplies last)
Sweetwater supports Upper Chattahoochee River Keepers.  Be sure purchase a fish at Taco Mac restaurants this month to help keep the Chattahoochee River clean.  Visit the River Keepers site HERE