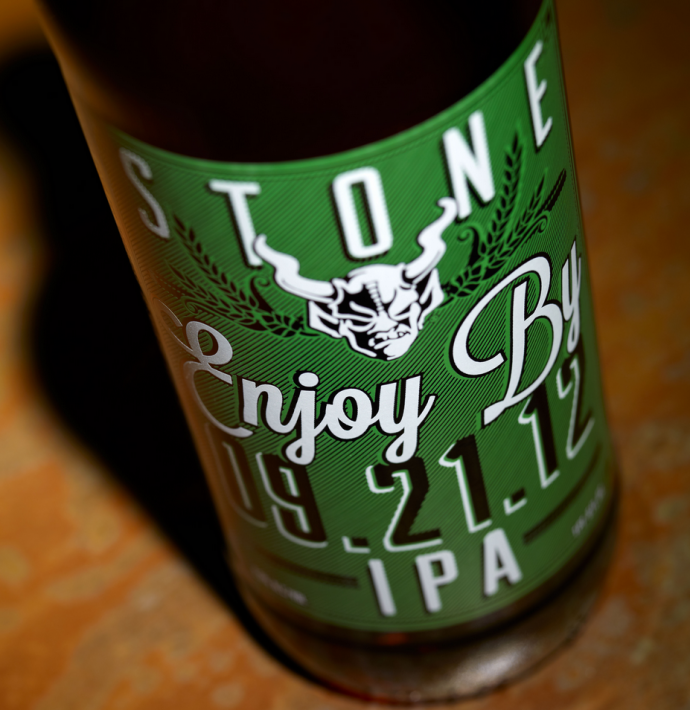 Stone Brewing Co has officially announced the Enjoy By 09.21.12 freshness experiment. The brewery calls the IPA "devastatingly fresh." The beer has to be consumed before the date very clearly marked on the bottle. We're talking bottled, shipped, shelved, AND drank within 35 days or it's gone.
There's catch though. The beer is only available in just 3 U.S. markets – Chicago, New Jersey, and Southern California.
"At Stone we take freshness seriously, so much so that we laser-etch the Enjoy By date on each bottle," Greg Koch, Stone Brewing Co. CEO and co-founder stated. "However, Stone Enjoy By IPA is a project that takes freshness to an entirely new level."
Stone will evaluate Enjoy By's success by media buzz on Twitter, Facebook, Instagram and more. There is an Enjoy By IPA website, along with a series of hashtags
Southern California fans: #EnjoyBy #SoCal
Chicago fans: #EnjoyBy #Chi
New Jersey fans: #EnjoyBy #NJ
What? Did you think you were just going to DRINK this fresh IPA?
Style: Imperial IPA
Hops: Calypso, Super Galena, Simcoe, Delta, Target, Amarillo, Motueka, Citra, Cascade, New Zealand Nelson Sauvin, and Australian Galaxy
Availability: 22oz bombers, Draft. NJ, Chicago, SoCal
9.4% ABV, 88 IBUS