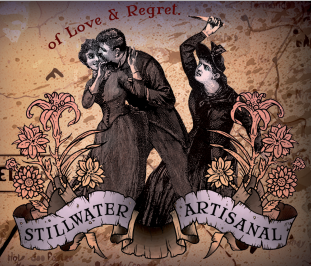 Stillwater Artisanal Ales's Brian Strumke is planning to open a  new pub – Of Love & Regret in Baltimore, Maryland.  The pub will be a 3 floor collaboration between Stillwater and Jack's Bistro.  1st floor: pub. 2nd Floor: Provisions store, featuring coffee, cheeses, & more.  3rd Floor: Special Events. 
From Brian:
Located at 1028 S. Conkling St. just off I-95 in the Brewer's Hill neighborhood of East Baltimore directly across the street from the old National Brewing Company. The same neighborhood that Brian (Strumke) grew up and also the birth place of Stillwater Artisanal  (formally awarded #2 best new brewer in the world for 2011 by Ratebeer.com and currently sits in the global top 100 for 2012).   The area is also home to one of Baltimore's most acclaimed  and innovative restaurants, Jacks' Bistro. The two parties decided to join forces after collaborating on a number of successful beer dinners and the mutual admiration shared between Chef Ted Stelzenmuller & Brian for one another's craft, made it an obvious decision.
The idea is to feature traditional concepts, twisted by a forward-thinking mentality. "both Chef Ted and myself prefer to work outside the box, and both of us being avid world travelers provides us with constant inspiration. So the idea is to offer some of the best in global food & drink culture together with a mix of Baltimore local heritage.. to quote the Talking Heads, 'head in the clouds, feet on the ground.' "
Designed in Stillwater aesthetic, 'of Love & Regret' will provide three unique environments in the spacious venue of three floors that feature views of Baltimore's Downtown Inner Harbor and outdoor seating. The first floor will be the 'pub,' featuring causal upscale dining with an innovative menu designed by Chef Ted to compliment the esoteric beer selection featuring many exclusive Stillwater beers and collaborations. The list will also be rounded out by selections from Brian's global brewing brethren, again including many rare and exclusive offerings.
The second floor is where the 'provisions' come into play in the form of a focused 'shop' filled with libations of all types along with other artisan products available for enjoying on site or for take away. Here is where we will see the expansion of Stillwater Artisanal into other avenues of epicurean culture including collaborations with both local & international artisans to produce exclusive cheeses, charcuterie, sausage, bread, and even coffee. "We come across so many amazing craft products around the globe while on our travels, 'of Love & Regret' will give us the opportunity to share some of these experiences with our friends & family back home in Baltimore". The third floor will be reserved for special events during the year and private rental space.
Open 7 days a week for lunch & dinner featuring an innovative menu (most items designed with the beer in mind) by Chef Ted Stelzenmuller of Jack's Bistro, backed by inspired cocktails, select wines, and a Stillwater-curated beer list of roughly 23 drafts, 1-2 cask ale beer engines, an extensive bottle list, and other exclusive artisan products all of which will be available for on-site enjoyment or take away.