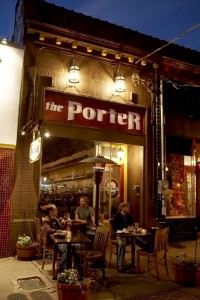 Southern Tier takes over all 10 tap handles at The Porter officially at 6pm!  However, Molly Gunn (owner of The Porter) says if you swing by at lunch you can have your pick 😉
The Beers:
Mokah – Imperial Stout, 10% ABV.  A 50/50 blend of Jah*Va and not yet release in Georgia Choklot. Coffee & chocolate
Creme Brulee – Imperial Stout, 10% ABV.  This stand out imperial stout is brewed with vanilla beans and generous caramel malt. It takes like you think!
Phin & Matts Extraordinary Ale — American Pale, 5.4% ABV.  Lots of whole flower hops, malted barley, crystal filtered water.  Nice hoppy pale.
Big Red — Imperial Red Ale, 9.5% ABV.  Single hopped w/ Hallertau. Spicy. Malty with sweet undertones.
UnEarthly IPA — Imperial IPA, 9.8% ABV.  Imperial IPA with huge hop bill.  Southern Tier describes it as aggressive.
422 Pale Wheat Ale — American Pale Wheat Ale, 5.8% ABV.  Unfiltered.  Hints of orange and sweet malts.  Tribute to responsible earth practices. Packaged w/ recycled materials etc.  Wheat, barley, hops play big roles in 422.
Iniquity Imperial Black Ale — 8.9% ABV.  Called the "Antithesis of Unearthly," this is a hoppy black ale, much like a black IPA.
Farmer's Tan – Imperial Pilsner, 9% ABV.  Big pilsner flavor that hides the 9%. Big bold American take on the style.
2X IPA – Imperial IPA,    .  Soon to hit wider release in the southeast.  Very popular hoppy offerning by Southern Tier
IPA — 6.9% ABV.  Essentially the beer that made the brewery.  It's an American IPA. AKA — The iso-alpha acid experience
Again – official kick off of this Southern Tier party is 6pm.  Preview at lunch!
The Porter Beer Bar –  8/20/10
1156 Euclid Avenue Northeast
Atlanta, GA 30307
Twitter: @PorterBeerBar