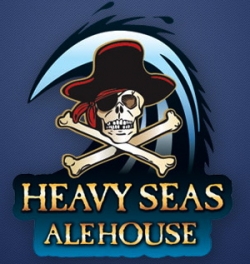 Heavy Seas Alehouse "officially" opens next week, but they are already seating customers.  A little peek at the menu, from BaltimoreMagazine:
Bill of Fare as they call it, is divided into:
First Try This, with dishes from the raw bar like oysters, smoked mussels, and crab salad, and other items like beet pickled eggs, braised bacon, and charcuterie and cheese.
And Then Try This, with bigger plates like 24-hour beef short rib, roasted chicken, and a Heavy Seas Burgers. What's great is that these dishes are paired with a recommended beer. For instance, the grilled hanger steak is matched with a Loose Cannon American IPA.
With Something on the Side, with offerings ranging from traditional onion rings and fries to Brussels sprouts with smoked pancetta and caramelized onion and farrotto risotto with pork confit, Portobello, and Parmesan cheese.
And, of course, there are lots of great drinks, including bottled beer, red and white wine, cocktails, and a nice rum selection.
Heavy Seas Alehouse
1300 Bank St, Baltimore, MD 21231