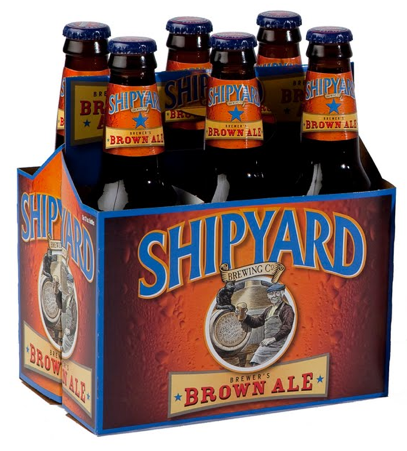 Shipyard Brewing Company's Brewer's Brown Returns to Stay.  Brewer's Brown was released by the Portland, Maine based brewery as a spring seasonal in 2010.  In 2011, it has been promoted to year round.
Description:
Shipyard Brewer's Brown is a full-bodied dark brown ale made with 5 different malts and 3 varieties of hops. This beer has a nice, smoky taste up front and a smooth, full body finishing with a crisp hop bite at the back.
Style: Brown Ale
Hops: English Challenger, Styrian Goldings, East Kent Goldings
Malt: 2-Row British Pale Ale, Crystal, Roasted Barley, Chocolate, Torrified Wheat
Yeast: Top-Fermenting English
Food Pairings: Hamburgers, Traditional Pub Fare
Availability: 12/6pks. 12pks. Draft.
5.4% ABV