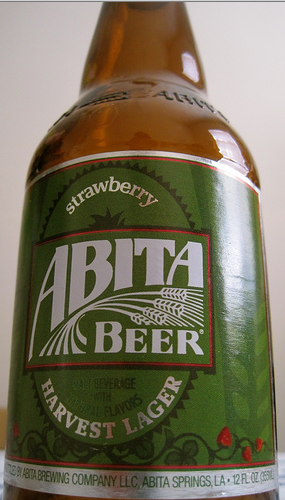 Abita Brewing's Strawberry Lager has to be one of their most popular offerings.  I see very few lagers fly off the shelves faster than this one.  A great beer for warmer weather, and made with real fruit, this is a light fresh offering that is hard to pass up.  I don't care who you are.
Commercial Description:
Strawberry Harvest Lager is a wheat beer made with real Louisiana strawberries, picked late in the season when they're at their swee This brew has earned quite a reputation in a short time, causing the brewery to up their production year after year. When this brew is found, emails and phone calls fly to friends informing them of the store's location. Strawberry Harvest is a crisp, light lager with just a hint of strawberry sweetness. It is wonderful with desserts or lighter fares such as salads and pastas. Fresh cheeses such as Burrata, chevre, Creszenza, mozzarella or Teleme pair well with Strawberry Harvest.
Style: Fruit Beer
Taste Expectations: Strawberry pops in the nose, and in flavor.  Fresh strawberry flavor.  This beer is light, crisp and easy drinking.
Availability: 12oz/6pks. No draft in 2011.
4.2% ABV