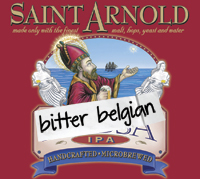 Quick note from Saint Arnold regarding their new Bitter Belgian release:
The last release currently planned in our Moveable Yeast series is the Bitter Belgian – Elissa IPA fermented with a Belgian yeast strain as opposed to our house Saint Arnold ale yeast. The result is a much fruitier beer with a variety of interesting notes that work quite well with all the Cascade hops used to brew Elissa.
 Bitter Belgian will be available on draft only. Although it is being released on February 9, it will only be sporadically available on that date. Many pubs and restaurants will be putting it on over following couple of weeks. In addition, some accounts will wait to tap their kegs until they have another special event planned.
There is a very limited amount of this beer available. While most of it will be sold in the greater Houston area, some is being shipped to our other Texas markets as well as Louisiana.
When possible, we really recommend enjoying Bitter Belgian next to an Elissa IPA so you can see just how large an effect yeast can have on the flavor of beer. We will have Bitter Belgian on our weekday tours starting February 9 but it will not be available on our Saturday tours.