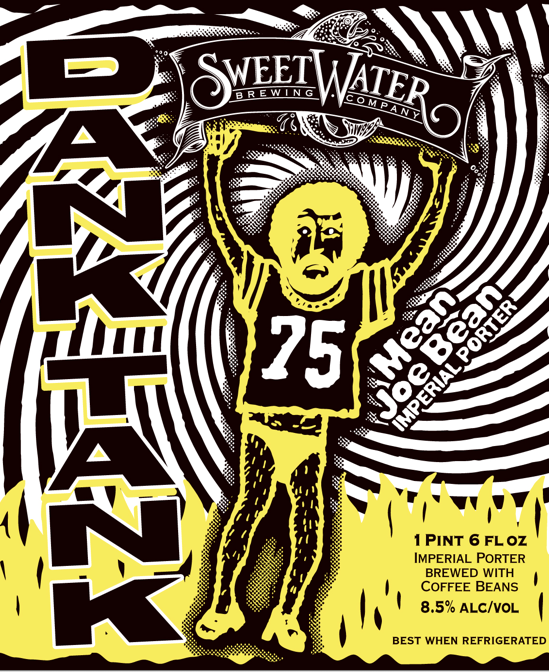 More info on SweetWater Brewing's next release – "Mean Joe Bean" headed to shelves in February.
ATLANTA — Football season never ends at SweetWater, hence the release of Mean Joe Bean, a bean-to-beer experiment and the latest in the rarely released randomness dubbed their Dank Tank series. These creations emerge from SweetWater's dark side — brewed only when the itch gets so bad, they just have to scratch it – and they are few and far between.
Staying true to their local roots, SweetWater brewers partnered with Atlanta coffee favorites JavaVino, located in the Highlands, to create this Imperial Porter brewed with coffee beans. This coffee and wine house brings in their signature coffee from Nicaragua and is produced by co-owner Heddy Kuhl's family.  The Kühl Family picks the coffee beans, exports, imports, roasts and brews them right in Atlanta.  For more on JavaVino and their sixth generation family coffee farm visit www.javavino.com
As the name suggests, the tale of this beer is legendary. As their creative sense of history touts, "Rodger the Dodger and his Imperial Porter bone offense didn't stand a bat wing's chance once we dipped our Nicaraguan bean sack through his facemask!  We blindsided his 8.5% Alc/Vol jock strap back to the fields to pick more beans, resulting in this Immaculate con-Catch-tion of intense forearm shivers of chocolate malt, a body like the Bus and blitzes of gridiron hops, all clothes lined by intense coffee overtones. It's so good that you'll need your terrible towel to wipe the tears."
Mean Joe Bean comes in 22 ounce bottles and on draft and is best when fresh to be able experience the crushing beauty of flavors this brew delivers.  But, fans act fast because this will be off the field before you know it with only the jersey off its back as a souvenir; it is the perfect pint for the porter drinker and coffee lover in all of us.
And speaking of craft beer, join SweetWater Brewing Company this March for their second annual Brew Your Cask Off on March 5th.  Visit www.brewyourcaskoff.com for info and tickets.
About SweetWater Brewing Company: SweetWater Brewing Company is an Atlanta-based craft brewery specializing in aggressive West Coast style beers. SweetWater's brews are unpasteurized and designed to be consumed fresh so distribution is limited to the Southeast. The award-winning lineup of year-round brews includes SweetWater 420, Sch'Wheat, IPA, Blue and Georgia Brown. SweetWater also features a Catch and Release series of beers available on a limited basis throughout the year, and an experimental, one-time-only Dank Tank series. The SweetWater Brewery, open for tours every Wednesday, Thursday and Friday at 5:30 p.m. and Saturday at 2:30 p.m., is located at 195 Ottley Dr NE, Atlanta GA 30324. For more information about SweetWater Brewing Company, please visit www.sweetwaterbrew.com.