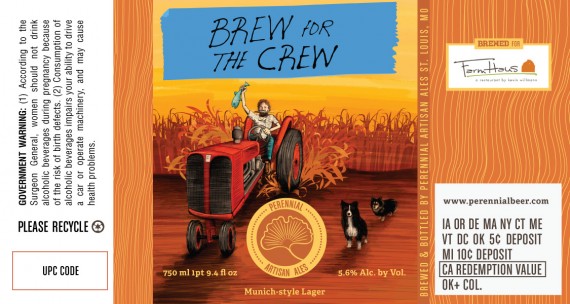 Perennial Artisan Ales Brew For The Crew.  A beer brew for Farmhaus, an organic/sustainable agriculture restaurant concept in Saint Louis, Missouri.
Farmhaus is dedicated to supporting local farms, organic food production and sustainable agriculture. We focus on using fresh, seasonal ingredients to create a memorable and intriguing dining experience. The menu of small plates and tasting menus changes daily reflecting chef Kevin's inspirations. Come experience the everchanging menu and welcoming atmosphere at Farmhaus.
The beer is a Munich-style lager (much like Weihenstephaner Original, or Victory Lager.)  Malty, bright, & clean.
Style: Lager
Availability: 750 ml bottles
Arrival: TBA
5.6% ABV