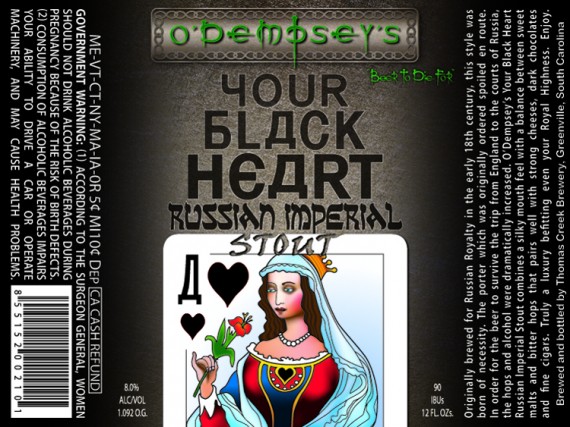 O'Dempsey's 3rd release has started shipping – Your Black Heart Russian Imperial Stout. Currently, O'Dempsey's is contract brewing – recently switching from Red Brick in Atlanta to Thomas Creek in Greenville, South Carolina.  O'D's other releases include Big Red & Inukshuk IPA.
Label:
Originally brewed for Russian Royalty in the early 18th century, this style was born of necessity. The porter which was originally ordered spoiled en route. In order for the beer to survive the trip from England to the courts of Russia, the hops and alcohol were dramatically increased.
O'Dempsey's Your Black Heart Russian Imperial Stout combines a silky mouth feel with a balance between sweet malts and bitter hops that pairs well with strong cheeses, dark chocolates and fine cigars. Truly a luxury befitting even your Royal Highnesss. Enjoy.
Availability: 12 oz bottles, Draft.
Arrival: Late Oct, 2011
8% ABV, 90 IBUs