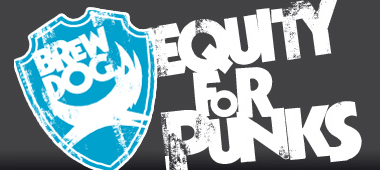 Presenting Equity For Punks II.  Brewdog is opening up the opportunity to buy shares of Brewdog.  You can now invest in the craft beer business in a more "tangible" way.  Right now you can literally click over to the brewery's site, and for £95 ($150 U.S.) a share you can invest in Brewdog's bold business model.  Note: Shares are sold in 4-pack (lol) so expect to minimally drop $600.
In 2009 we pioneered a ground-breaking new generation of business model. Equity for Punks turned the concept of business ownership on its head. Equity for Punks was a break from the mundane route of asking the banks and private equity for money, a new and alternative
business model. Over 1,000 people invested and the Equity for Punks concept was met with huge
media interest.
And now it is back! Bigger and better than ever before. Welcome back to Equity for Punks and your chance to own part of BrewDog.
We are releasing a second wave of B Shares, entitling shareholders to a lifetime discount in our bars and in our online shop, creative
influence over what we reckon to be one of the world's most forward-thinking breweries as well as an invitation to BrewDog's soon-to-be legendary…
Start your investing HERE
Not convinced?  Here's your Brewdog sales pitch…
Equity for Punks 2011 from BrewDog on Vimeo.