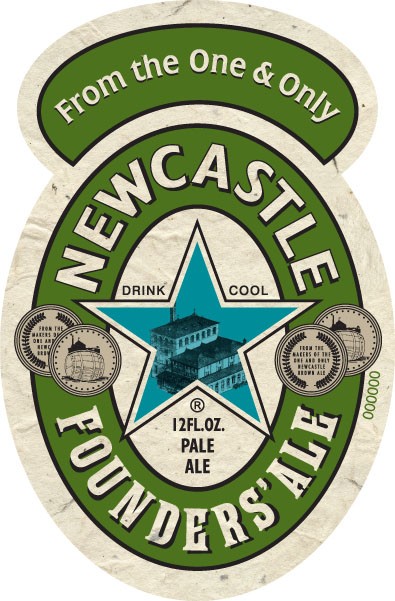 Newcastle's newest brew- Founders' Ale has arrived stateside.  Founders' joins Werewolf & Winter IPA in the brewery's seasonal release lineup.  The 12oz bottles are arriving nationwide starting at the end of the month, with draft in select cities.
Only one Limited Edition is special enough to bear the name Newcastle Founders Ale. The name, like the star on its label, is a tribute to the heritage of the five founding brewers of Victorian-era Newcastle. Its nutty brown colorlight-bodied flavor and malty dry, bitter finish will make you as proud of our heritage as we are.  Available for the first time in the U.S., Newcastle Founders' Ale is a full-bodied, drinkable brew with dry, hoppy and roasted flavors. The classic Bitter ale is balanced by subtly sweet aroma notes of caramel and fruit with a short, clean finish.
"The iconic five-point star on our label recognizes the five founding breweries of Newcastle, and this beer further celebrates the legend of our original, hard-working Geordie brewers and patrons," said Charles van Es, brand director Newcastle Brown Ale. "With Founders' Ale we are answering consumer demand by offering all of Newcastle's Limited Editions nationally in 2012, giving everyone a chance to enjoy a bit of authentic English history." 
Style: English Bitter
Hops: Styrian Goldings
Taste Expectations:
Availability: 12oz bottles (6/12pks) Draft.
4.8% ABV, 20 IBUs