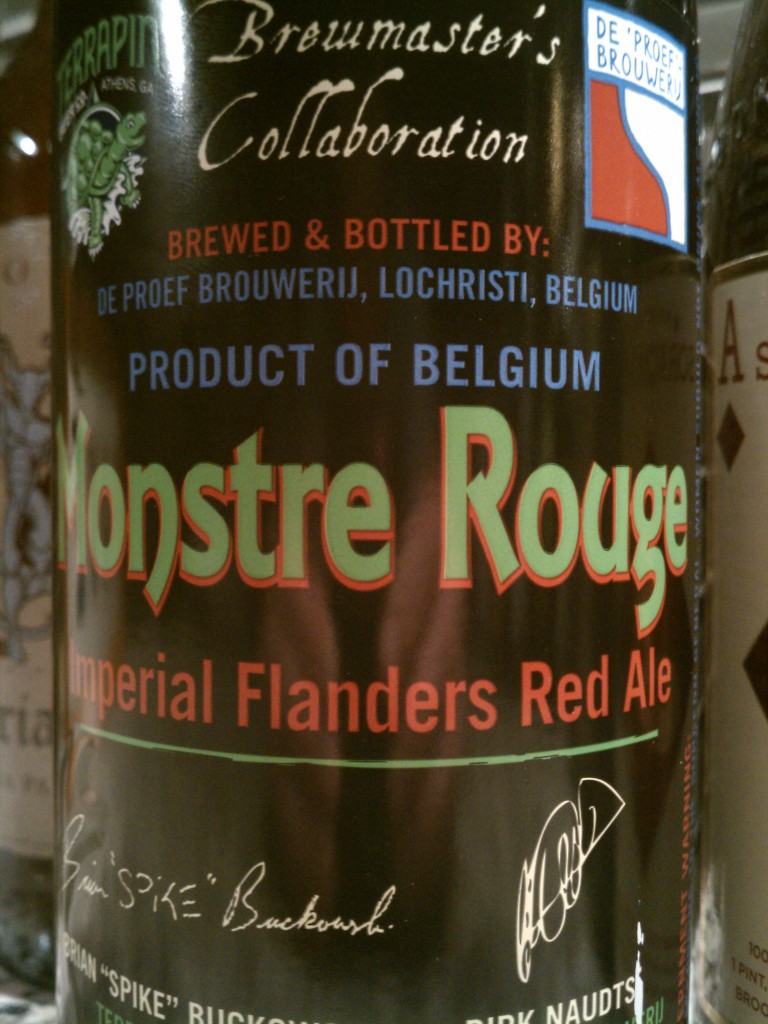 Recently, the brewers of Terrapin Brewery  (Athens, GA) traveled to Lochristi, Belgium to collaborate with De Proef Brewing.  De Proef  was found in 1996 by Dirk Naudts.   Dirk Naudts is considered one of the leading brew masters in Belgium.  De Proef (or "The Prof — Dirk's nickname)  is a highly scientific brewery that melds traditional brewing methods with modern equipment technologies.  Versatility is a keyword when describing De Proef as each beer is made in a 9 Barrel brewhouse, which allows each beer to be specially crafted and unique.
Dirk's brewing reputation spawned the collaboration project between De Proef and American brewers.  Monstre Rouge is the 4th collaboration with De Proef.  It's an Imperial Flanders Red Ale.  Rouge has a lot in common with Terrapin's Big Hoppy Monster.  Imagine Big Hoppy Monster (a red ale) with Rye Malt added.  Then instead of an American ale yeast, one of Dirk's specialty Belgian strains of Brettanomyces was used.  There might even be some Lactobacillus in the mix.  It is then aged on toasted American oak.
Hops – American strains – Potentially Cascade, Amarillo
Malts – Rye Malt, Crystal Malts (Color Range Lovibond 20-75)
Taste Expectations – Described as tart, sour, sweet, hoppy & woody.  Complex; with big IPA nose, sweet malts and sour in one big package.
Availability – 750 ML Corked & Caged.  Rare cask & Draft offerings.  (Already in Atlanta, announcements soon)
8.5% ABV