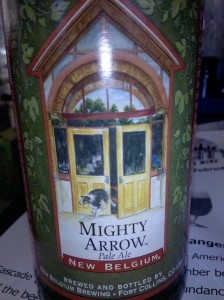 This post is a little late, but here it is.  New Belgium just released their first IPA – dubbed Ranger last week.  Alongside Ranger comes Mighty Arrow Pale Ale, a seasonal release.
Mighty Arrow is named after a New Belgium employee's dog "Arrow," a Aussie/Border Collie mix who walked the brewery grounds for 12 years.  Arrow would make office visits for belly rubs.  Commemorating Arrow, is this Pale Ale.  Here is your ingredient rundown –
Hops – Amarillo, Cascade.
Malts – Honey Malts
ABV – 6%
IBU's – 35  (Low bitterness)
Mighty Arrow is very easy drinking, with a nice hop nose.  There are hints of grapefruit and citrus, and not very bitter.
Available seasonally – in 12oz/6 packs.  Also current tapping now at various places all over Atlanta.