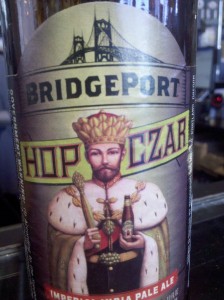 While this is the second release of Hop Czar by Bridgeport Brewing in Portland, Oregon – it did not make it's way to Atlanta last year. ( That I or others are aware of…)  I had a brief discussion with some beer friends about Bridgeport and a good point was raised.  Bridgeport has been making craft beer for a while now. (Starting in 1984)  Their beers reflect a sense of tradition brewing styles which are tried and true and well… downright delicious.  In the current world of brewing, it seems that the more extreme brewing makes headlines, and the great damn beers that the extreme is based on, gets overlooked.
Well, you won't find that on this site.  There is a whole world of brewing out there, and more growing in this fair city everyday, and dammit I'm going to try to talk about it all.  That brings me to Hop Czar.  Hitting shelves just a couple of days ago, I am very impressed with this Imperial IPA.  First and foremost, I have to tell you what a wonderful hop aroma and palette this beer has.   Hop Czar uses whole flower hops in the brew, and it shows.  You'll find great citrus and floral tones in this DIPA, that aren't overpowering or obtrusive.  Great malt backbone pulling this together, and a not so bitter finish for an Imperial.   Here's your hop breakdown –
Hops – Nugget, Chinook, Cascade, and Centennial.
ABV – 8%
Available – 6 packs – Great Price!! Around $8 or less in some cases.
I'm not in to reviewing, I'm in to informing about new brews.  However, I really enjoyed Hop Czar.  I'm glad to have it in my fridge.