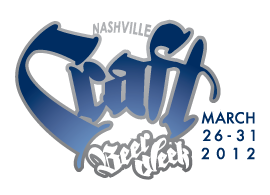 The first Nashville Craft Beer Week is coming together nicely.   The week runs March 26 – 31st, 2012.
About NCBW:
The Inaugural Nashville Craft Beer Week will take place March 26-31 with the grand finale event of The East Nashville Beer Festival at East Park in East Nashville. The entire week is Rhizome Productions increased efforts to help increase Nashville's awareness and desire for craft beer. With the recent increase in breweries slated to open in Nashville its seems that Nashville is moving in the right direction to please beer drinkers. Nashville Craft Beer Week will further help this cause by arranging various events through out Nashville the entire week. Expect beer dinners, brewer meet and greets, in store tasting, and unique opportunities to sample unique craft beer. Please keep up with our Facebook page and NashvilleCraftBeerWeek.com for all details. Rhizome Productions would also like to thank Ajax Turner, DET, Limpan Brothers, and Bounty Bev for their continued support. Also a huge thanks to all participating Nashville business; without their involvement this would not be possible.
Events to include: Yazoo, SweetWater, Blackstone, Green Flash & more.