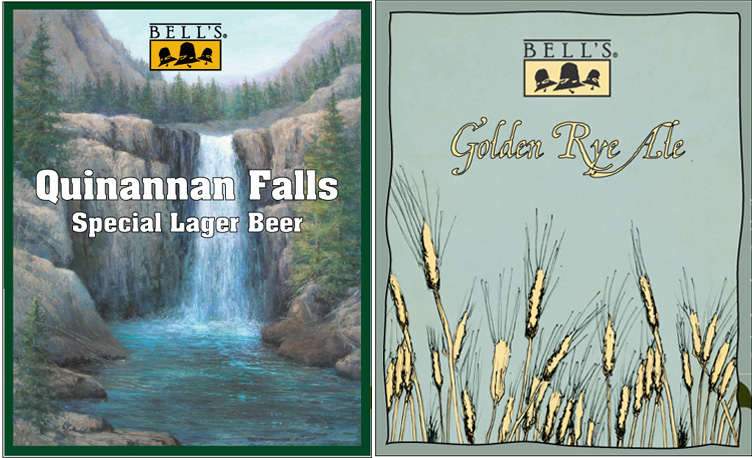 Bell's Brewing bombers exist. At least in very small batches. Last week we found out that Sparkling Ale has a run of 1,200 bottles. Now 2 more beers join Sparkling – Quinannan Falls Special Lager Beer, and Golden Rye Beer.
Both of these beers are seem relatively new – (less than 20 ratings on BA) and draft only.  Like Sparkling Ale, these 2 beers are part of a 1,200 bottling run from February, 2011.  Golden Rye is of course a Rye Beer, 6.5% ABV.  A little more info exists on Quinannan.
About Quinannan:
Born in a dream, Quinannan Falls Special Lager BeerQuinannan Falls Special Lager Beerrefers to a mythical place in the boreal north. While the waterfall may exist solely in Larry Bell's imagination, the beer he remembered drinking there is now quite real. Quinannan Falls possesses the crisp, dry bitterness you'd expect from a German pilsner, but the use of highly aromatic hops from the Pacific Northwest in both the kettle & dry-hop evokes the fragrant pine forests that inspired this beer.

Style: American Pale Lager

6.5% ABV
Where? What? When?  Still waiting on the news.  But 1,200 bottles doesn't go very far. [Speculation] Sounds like these are for a special event or perhaps Savor?