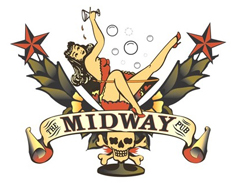 Midway Pub in East Atlanta has added a tap tower.  It's a reason to celebrate.  Tonight starting at 5 pm Midway Pub taps the following-
Mikkeller Fresler – Doppelbock, ?? ABV.
Jolly Pumpkin Luciernaga Grand Reserve – American Wild Ale, 7% ABV.  Tart, tangy.  Some cherry flavor. Sour and funky!
Founders Black Biscuit – Old Ale, 10.5% ABV.  Aged in regular bourbon barrels, with molasses added.
Haandbryggeriet Odin's Tipple – Russian Imperial Stout,, 11% ABV.  Dark Malts, chocolate, oak.
Great Divide Rumble IPA – 7.2%  ABV. Oak aged IPA just released by Great Divide.
Dogfish Head Theobroma – Chile Beer, 9% ABV.  Brewed with ancho chilies, honey, chocolate.
Bell's Poolside – American Pale Wheat, 5% ABV.  Wheat Ale brewed w/ Cherries.
Allagash ??? – Mislabeled keg.  Come guess what this one is!!
Taps, 5 pm 8/30/10
Midway Pub
552 Flat Shoals Avenue Southeast
Atlanta, GA 30316