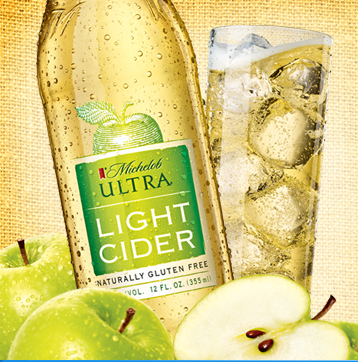 Anheuser-Busch has officially made their foray into the cider world with Michelob ULTRA Light Cider.   The low-cal cider is officially making its national debut this week, touted as a refreshing alternative to white wine, champagne and heavy ciders.  This is the first cider that AB has ever produced in the United States, at the Baldwinsville, New York plant.
Per the recent press release:
"As more people continue to discover cider, we've found that many view traditional ciders as either too heavy, too sweet or both," said Ryan Moore, vice president of premium lights, Anheuser-Busch."This perception has often times limited ciders to a seasonal beverage during fall and winter, but we saw an untapped potential to expand the category as a year-round option for adult drinkers. Michelob ULTRA Light Cider fills this void with a lower calorie cider with a milder, but distinct, sweetness that can be enjoyed straight or over ice." 
Style: Cider
Availability: 12 oz bottles.  Nationwide, except CO, UT, WY, OK
Below… we tried the test batch.  Big green apple smell. Very light flavor.