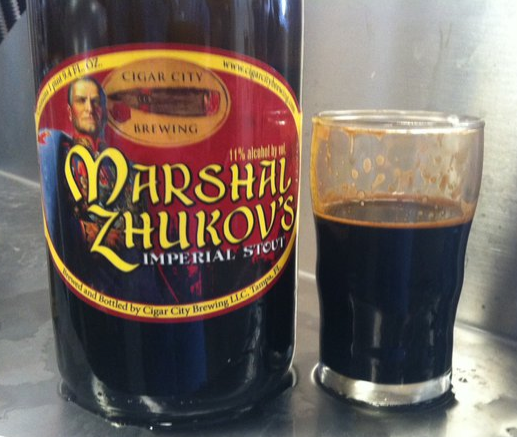 Cigar City Brewing's Marshal Zhukov returns on August 6th, 2011. 750 ml bottles on sale at the brewery on that day – $$ to be determined
Label:
This Russian Imperial Stout is dedicated to George Zhukov, arguably one of the finest generals of World War II. Opaque black in color, with notes of espresso, chocolate, dark toffee and hints of blackstrap molasses. The English hop varietals provide subtle herbal dryness, and finishes with a hearty slap of roasty espresso. Pair Marshal Zhukov's with Mushroom Solyanka, dark chocolate, cherries and ground wars in Russia.
Style: Russian Imperial Stout
Availability: 750ml bottles, Draft.
11% ABV
Other Cigar City news:
– Fruit In the Room, August 20th – with a special bottle release
– Big Dummy just hit tap handles, an amber ale with Belgian yeast
– Black Whole was just bottled. Available in 12oz bottles
– Just brewed a batch of Bolita Brown Ale