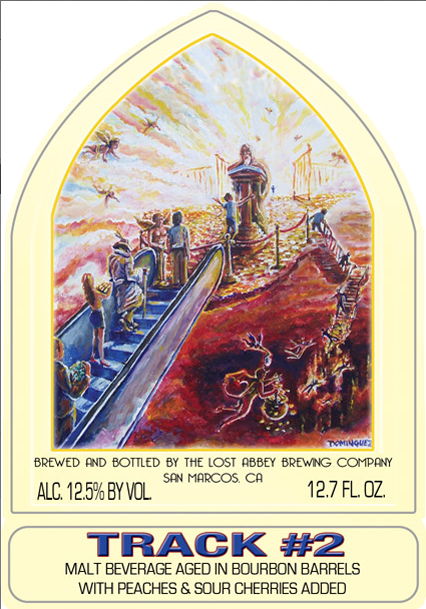 The second release of Lost Abbey's Ultimate Box Set Series releases this Saturday, February 18th, 2012.
The Beer:
From the Remixed Tracks, this is a blend of Cuvee from bourbon barrels blended into The Angel's Share (bourbon) with peaches and topped off with Project X (our wild fermentation project) to balance the peaches' sweetness with some acidity. The blend proportions are 60% Angel's Share, 20% Cuvee de Tomme and 20% Project X.
ABV: 12.5%
Backstory (Liner Notes):
You ever wonder how we're going to know for sure which Stairway might actually lead us towards heaven?  At Rapture, God's probably going to roll out some bunk ass rickety rope ladder as one last test of our faith based resolution and seemingly an absolute confirmation for inclusion in his Kingdom.
Devious Satan will unveil his own stairway for us. Under a storm of panic like a captain trolling for lost souls, he'll take delight harvesting a bounty of smelted riches from that sea of chaos. Baiting a simple blinking neon sign announcing the doors to heaven are open will have the ignorant and sinful gulping the tasty treats of his "easy" step Escalator to Heaven. Upon reaching Faux Heaven, St Peter won't be there overseeing GSA Angels and their full soul body scanners for souls. For they choose poorly once again revealing all the shame and sin!
Oh the horror, enjoy the Golden Glistening Plunge…
Release: Each individual track release is limited to 350 bottles, so they won't make distribution. Bottles will be for sale only in the brewery tasting room and must be consumed onsite – no take away. Additionally, these beers are available strictly on a first come, first serve basis; no reservations will be accepted.