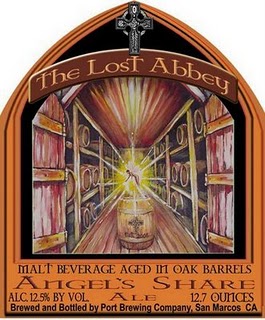 Friday, September 2, 2011 will mark the release of the 2011 bourbon barrel-aged version of The Angel's Share, our legendary English-style barleywine.  This years vintage spent 12 months in Heaven Hill American white oak barrels.
Yield:  The blend of 47 barrels yielded 550 cases and an additional 200 five gallon kegs, providing enough beer for full coast-to-coast distribution.
Those living in locations in which our beers are available should expect to see The Angel's Share on shelves and taps shortly after Labor Day (September 5th).
Release details are as follows:
Beer: The Angel's Share — Bourbon Barrel-Aged
Formats: 375ml cork stoppered bottles and draft
Distribution: Full network
Purchase limits: None
Style: English Barleywine (Barrel Aged)
12% ABV