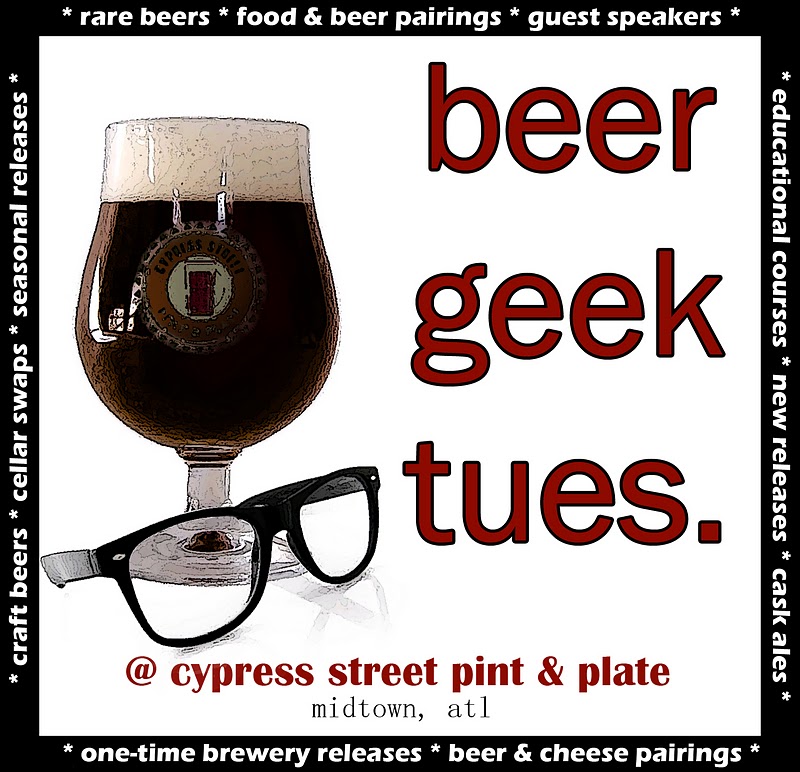 This weeks Beer Geek Tuesday is big one at Cypress Street.  Wes Anderson has gone out of his way to make a night featuring local beers.   Expect representation from every brewery (or future brewery, I mean you Monday Night Brewing)   on hand for the event.  In case you don't know everyone I'm talking about – Sweetwater Brewing, Red Brick Brewing, Terrapin Brewing, Wild Heaven Craft Beer, Twains, and Jailhouse Brewing.  As if the beer isn't enough, enjoy conversations with some of the brewers themselves, brewery representatives, distributors, even members of local craft beer stores.  Continue on for the tap and guest list!
Tap List:
Sweetwater Crank Tank
Sweetwater Sch'Wheat
Terrapin Reunion
2010 Terrapin Big Hoppy Monste
Redbrick Octoberfest
Redbrick Pale Ale
Wild Heaven Ode to Mercy
Wild Heaven Invocation
Jail House Breakout Stout
Jail House Mugshot IPA
Odempsey's Big Red
Odempsey's IPA
Confirmed Special Guests-
Randy O'Dempsey (President, Brewmaster, O'Dempsey's)
Nick Purdy (President, Sales, Wild Heaven)
Brian O'Connell (Beer Pimp, SweetWater)
Chris Caban (Sales, Redbrick) – Other Redbrick staff
Chad Baker (Sales, Jailhouse)
Glen Golden (Brewmaster, Jailhouse)
Steve Hayes (Sales, Terrapin)
Jordan Fleetwood (Brewmaster, Twains)
Potential Guests:
Matt Wells (Savannah Distributing)
Bobby Marek (United Distributing)
Carla Jan (United Distributing)
Jim Brooks (GA Crown) –
Michael Vandura (General Distributing)
Really Special Awesome Guests
Me! – AtlantaBeerMaster.com (LOL)
The Local Beer Tap Takeover for Beer Geek Tuesday kicks off @ 7pm!
Cypress Street
817 West Peachtree Street
Atlanta, GA 30308
Twitter: @CypressStreet