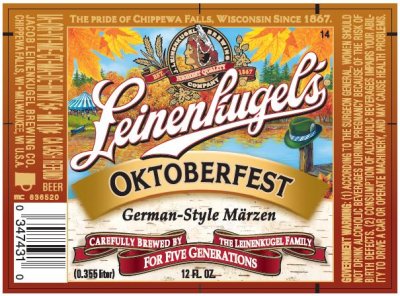 It's almost Octoberfest season again. Leinenkugel's Oktoberfest arrives again in late August.
CHIPPEWA FALLS, WI (Aug 2011) – For the 10th year, Leinenkugel's is rolling out barrels of its seasonal Oktoberfest brew in time for crisp, cooler temperatures. Celebrating a decade of brewing Leinenkugel's Oktoberfest, the brewer will again bring the traditional German Marzen-style flavor to bottles and draft across the U.S. beginning late-August through October.
First introduced in 2001 to honor company namesake, Jacob Leinenkugel, who came from Germany and started Leinenkugel's in 1867, Leinenkugel's Oktoberfest is brewed with Munich, Caramel and a blend of 2-row Pale malts. These barley malts give Leinie's Oktoberfest a rich, hearty character and deep amber color, while four hop varieties provide an aromatic and smooth, well-balanced lager.
"Each year craft beer fans look forward to specialty autumn brews that enhance the flavors of the season," said Jake Leinenkugel, president of the 144-year-old Upper Midwest brewery. "Over the 10 years, Leinenkugel's Oktoberfest has grown into a fan favorite and we're delighted to share our festive autumn brew with Leinie loyalists year after year."
Available nationwide in six and 12-pack bottles at supermarkets and liquor stores and on draft at bars and restaurants, Leinenkugel's Oktoberfest pairs well not only with bratwurst and sauerkraut, but is also an excellent complement to full-flavored hors d'oeuvres and hearty soups and chili. Leinenkugel's Oktoberfest retails for approximately $6.99 – $7.49 a six-pack.
About Leinenkugel's
Leinenkugel's, brewed in Chippewa Falls, Wisconsin, is the leading craft brewer in the upper Midwest. Year-round offerings include Leinenkugel's Sunset Wheat, Honey Weiss, Berry Weiss, Leinie's Red, Creamy Dark, Original, Light, and Leinenkugel's Classic Amber Lager. In addition to the Oktoberfest, Leinenkugel's offers three other limited-release seasonal beers including summer favorite Leinenkugel's Summer Shandy, Fireside Nut Brown and 1888 Bock. For more information on the rich history of Leinenkugel's, visit www.leinie.com or join virtual Leinie loyalists at www.facebook.com/leinenkugels.
###