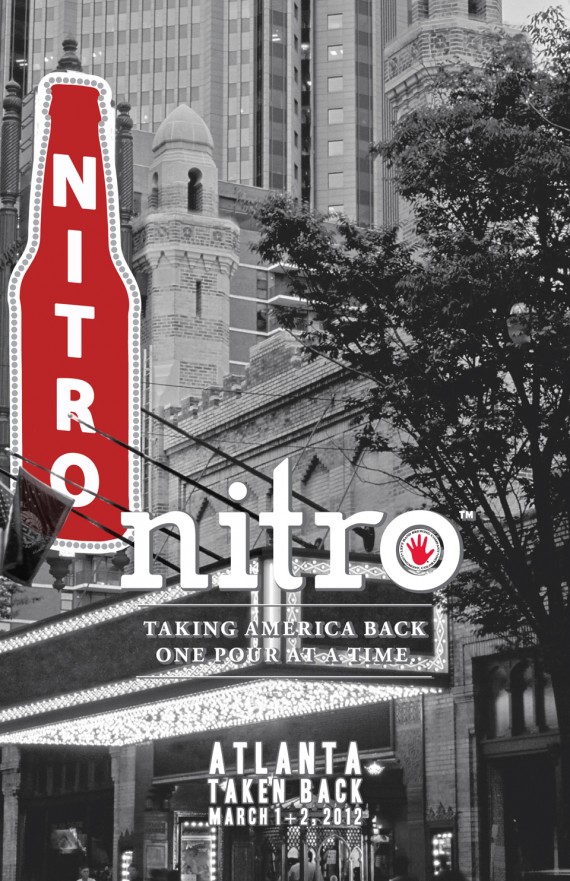 Left Hand Brewing rolls out Nitro Milk Stout bottles to Atlanta starting today.  Now the beer loving city of Atlanta can enjoy the nitrogen infused milk stout in a bottle too.
The 6 packs will set you back around $10 (or less) and have, or are hitting shelves as you read this ATL.  There's something else to get excited for too.  Launch parties.  Left Hand Brewing brought a few people from Longmont to celebrate with the fine people of Atlanta.
Left Hand Guests (at both events) Include:
Chris Lennert –  VP of Operations
Jason Ingram — Eastern Regional Sales Manager
Ro Guenzel — Head Brewer
Josh Goldberg — Head Bartender (See video below)
Sara Gould — NC/SC/TN Sales Rep
Steve Ponsetti — TX/OK/KS Sales Rep
Josh Breckel — Colorado Sales Manager
Bubba Love — Boulder County Sales Manager
Tonight (3/1/12) at Leon's Full Service:
Beer Guest of Honor: Nitro Milk Stout Bottles
Nitro Milk Stout (Tap)
Black Jack Porter
Polestar Pilsner
Sawtooth Ale
Ambidexterious Ale, Step #1
400 Lb. Monkey
CASK: Milk Stout on cascade hops.  Taps 9 pm
Leon's Full Service – Everything except cask taps at 5 pm.
131 E Ponce De Leon Ave
Decatur, GA 30030
The Fred Bar 3/2/12, 8 pm
400 Lb. Monkey
Ambidextrous Ale #1
Black Jack Porter
Polestar Pilsner
Nitro Milk Stout
Milk Stout Cask
Sawtooth
Stranger
Widdershins Barley Wine
CASK: Milk Stout on cascade hops. Taps 8pm
The Fred Bar – 3/2/12, 8 pm
5600 Roswell Rd  
Atlanta, GA 30342
Right after the launch, BeerStreetJournal was at the brewery in Longmont, Colorado.   Check out Josh talking about the new Nitro bottles.