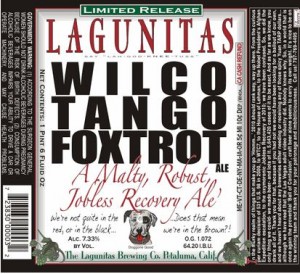 Last year it was 2009 Correction Ale, an American IPA with Imperial overtones.  The message? We're all bozos on this bus… a beer aimed to help with the recession blues.  In 2010, Lagunitas was hoping to have a cheerful, positive release but by the looks of things we don't know where we are.  I think Lagunitas hit the mark with it's newest release — Wilco Tango Foxtrot.   "A Jobless Recovery Ale, and ode to progress (or lack thereof.) "
Take note of the underlined letters.  Feel that way lately?  Wilco Tango Foxtrot is a brown ale with a strong hop bill. As Lagunitas states – "We're not quite in the red, or in the black.  Does that mean we're in the brown?"  Thusly, a brown ale fits.
Tasting notes — Deceptively hoppy at first look.  Lots of fresh hop flavors.  Citrusy, floral hops come through in this brown ale.   WTF has a nice rich malty backbone all the while not being heavy.  The balance is enjoyable, and the taste, fresh.   If you liked, Victory Yakima Twilight, Stone Sublimely, or Terrapin's newest — Capt'n Krunkles, you might want to get on board with this one.  It's dark while still being hoppy.
From the bottle — '"In the funky realm of things that make you go "Hmmm…" 2010 may rank way, way up there. From the curious per curiam decision of531U.S.98 in 2000, to WTC7, to the Superdome, to the Fall of the House of Lehman, to the Nobel President's Afghan Expedition escalation, to the oxymoronic Jobless Recovery of 2010; we have been confused. So, we done the only thing we could –  we made beer — and lots of it. 6,420M cases of it to be exact. As far as we know, you drank all of it. Thank you for that, because if you had not  we would have been looking for a bailout of our own, and we haven't heard of any breweries either needing or receiving any of those Yuan-flavored TARP dollars…although we have read that the Las Vegas adult video industry did. Nobody knows why. So, in a world that is once again the proverbial "Ball of Confusion", craft beer alone seems to carry its own weight. It's nice to be on the winning team and thank you for your friendship and imbibiliciousness. "
Wilco Tango Foxtrot arrives this week in 22oz bomber bottles and draft offerings.  Sightings soon here, and on Twitter – @AtlBeerMaster
7.3% ABV