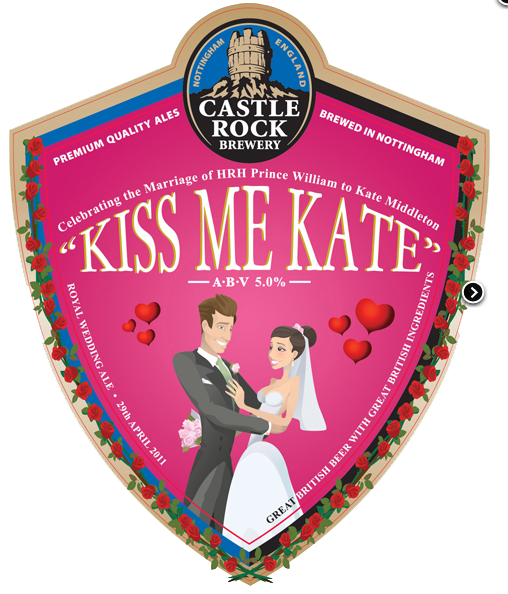 Castle Rock Brewing in the United Kingdom is releasing a new beer in honor of Prince William's marriage to Kate Middleton in April.  The beer, called "Kiss Me Kate" is a British ale brewed with British malts and hops.
Castle Rock brewer Adrian Redgrove describes the beer:
"Kiss Me Kate will be elegant, tasteful and British to the core.  It'll be brewed to 5%, pale in colour and, we're sure it'll be the ideal way to toast the couple's future happiness.  We'll certainly be enjoying it in our celebrations here at the brewery."
Starting in April, Kiss Me Kate will be available on draft at Castle Rock and local pubs leading up the blessed event on April 29th, 2011.
Also, the brewery is on the hunt for a lucky couple to come to the Castle Rock Brewery to help brew Kiss Me Kate.  The couple with help with the mashing in, and adding the hops.   To apply please email [email protected] . Per the website – you are asked to provide a brief description of what you did on valentine's day, along with a picture of the two of you and details of your wedding, reception and honeymoon.  Brewing will take place in Nottingham at Castle Rock Brewery during week of March 14th, 2011.
Website —> Castle Rock Brewing