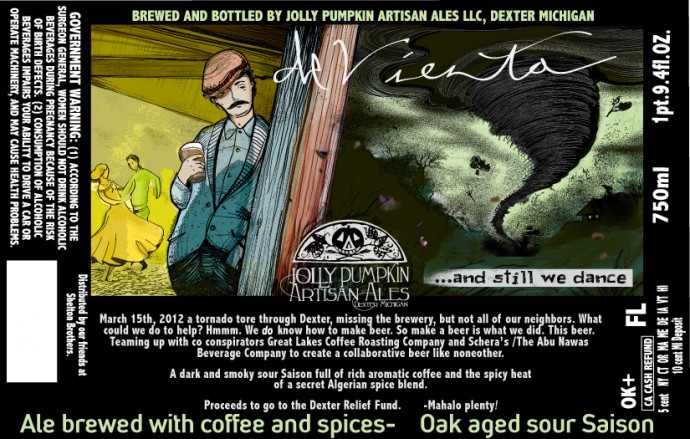 Jolly Pumpkin (Dexter, MI) plans on releasing a beer benefiting their hometown after a tornado. Tragically, parts of Dexter were damaged thanks to a tornado that missed the brewery but not some of their neighbors.
March 15th, 2012 a tornado tore through Dexter, missing the brewery, but not all of our neighbors. What could we do to help? Hmmm.  We do know how to make beer. So make beer is what we did. This beer. Teaming up with co conspirators Great Lakes Coffee Roasting Company and Schera's/ The Abu Nawas Beverage Company to create a collaborative beer like noneother.
A dark and smoky sour Saison full of rich aromatic coffee and the spicy heat of a secret Algerian spice blend. Proceeds go to the Dexter Relief Fund.
Style: American Wild Ale (w/ Coffee)
Availability: 750 ml bottles
Arrival: TBA
?? ABV