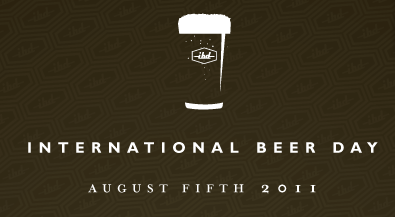 So today is International IPA Day. Tomorrow is apparently International Beer Day. (Funny, I thought that was every day for me.) Even if you were left in the dark about this day, here's the rundown via their website:
That's right, folks. Come this August 5th, Makers, Lovers and Sellers of beer all around the globe now have another reason to raise their frosty mugs. Along with hundreds of bars, restaurants, pubs and breweries worldwide, we have declared the aforementioned International Beer Day!
The purpose of IBD is threefold:
1) To gather with friends and enjoy the deliciousness that is beer.
2) To celebrate the dedicated men and women who brew and serve our beer.
3) To bring the world together under the united banner of beer, by celebrating the beers of all nations and cultures together on this one remarkable day.
International Beer Day is our chance to let the breweries and bars of the world know how much we appreciate them, all while participating in one of the best activities ever — drinking beer! Perhaps even more than the beverage itself, International Beer Day is about celebrating the establishments who produce it, sell it and give folks a place to enjoy it.
So tomorrow, do what you do best. Drink beer. [InternationalBeerDay]
The sexy lineup
IPA aged in Woodford Reserve