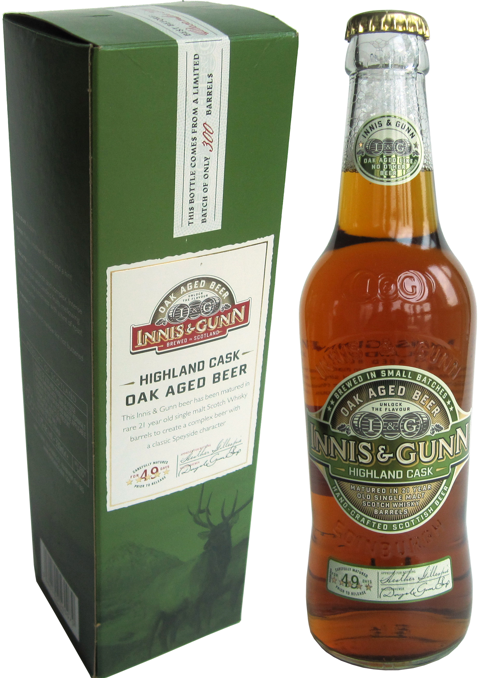 Innis & Gunn has 2 offerings in the 10 states the Scottish based brewery reaches.  Rum Cask is the brewery's most recent release.  In August, you will see a limited release offering.
The beer is Highland Cask 18 Year.  It is a special bottling of Innis & Gunn that has been matured in oak barrels that have been previously used to mature 18 year old single malt scotch whiskey from the Scottish Highlands.  The availability of these casks are very limited, making the beer a once in a long time treat.
About Highland Cask:
Earlier this year we were lucky enough to obtain some extremely rare oak barrels from a famous distillery in the Highlands of Scotland. These barrels had been locked away for 18 years, maturing single malt Scotch whisky.  Once they had been emptied, we filled them with a beer brewed to perfectly complement their rich, complex flavours. Then over weeks of maturation our beer slowly unlocked these delicious flavours from deep inside the oak.
Tasting the beer as it was maturing was an incredible experience — it seemed to grow in character with every day that passed. Only when we felt that it couldn't possibly get any better did we bottle it for you.  We think the result is absolutely delicious and we hope you enjoy this beer as much as we do.
A word or two about the beer – to complement the flavours drawn from these very rare barrels we have created a special recipe using some amber malt, which has added a beautiful full maltiness, and some Slovenian Styrian hops to give the beer its zesty character.
Style: English Strong Ale (Barrel Aged)
Hops: Super Styrian, East Kent Golding
Malts: Optic Malt Lager, Amber Malt, Wheat
Availability: 33oml bottles, boxed.
Arrival: August, 2011
7.1% ABV, 20 IBUs