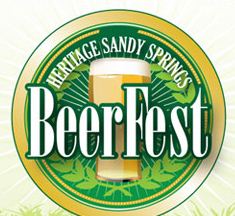 New this year is Heritage Sandy Springs Beerfest!  Heritage Sandy Springs is the not-for-profit organization that funds and operates Heritage Green, a four-acre City park located in the heart of Sandy Springs.
A special "people's park," Heritage Green offers recreational, educational, and cultural opportunities designed to enhance the quality of life for Sandy Springs residents. As the only green space located in the center of our new city, the park has been a natural gathering place for the community since the property was saved from commercial development in the mid 1980s. Each year, thousands of residents and visitors come to Heritage Green to enjoy free concerts, programs and events, participate in the award-winning Sandy Springs Festival, stroll the shady gardens, visit the Heritage Sandy Springs Museum and attend weddings, meetings and corporate functions.
Heritage Sandy Springs is proud to partner with the City of Sandy Springs to preserve and protect this vital urban green space, the home of the original "sandy springs." A half mile north of I-285 and two blocks west of Roswell Road, Heritage Green is the best kept secret in town. Visit soon and see for yourself!
This beerfest benefits Heritage Sandy Springs non profit organization.
Featured Beers: Peak Brewing Company, Jailhouse Brewing, Terrapin, Sweetwater, Southern Tier, New Belgium, 5 Seasons Brewing, Red Brick & more!
Date: Saturday, August 14, 2010.  3-8 pm
Tickets: http://bit.ly/duoPsl
Website: http://www.hssbeerfest.com/