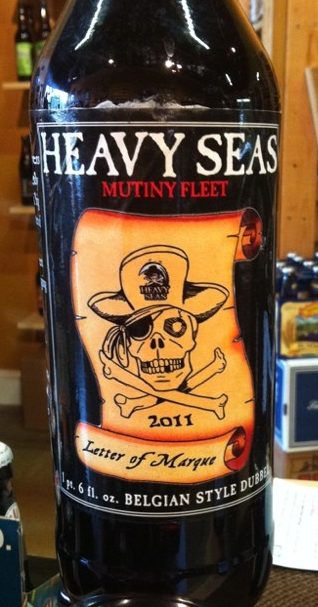 Heavy Seas Brewing's "Letter Of Marque" is brewed each year by the winner of the brewery's homebrew competition.  Last year's edition was a rye porter.  This year's Letter is a Belgian dubbel.  Brewed by Doug John & David Edmundson from Forest, Virginia.  From Heavy Seas:
Doug John, is the owner of Pints O' Plenty, a homebrew and craft beer shop offering over 200 craft brews.  Doug personally gives in home coaching whenever a new brewer purchases their first equipment kit – how's that for customer service!  Last year, David Edmudson, a friend of Doug's, purchased a kit and took advantage of Doug's offer to help him with his first brew.  The beer they entered, (one of Doug's recipes affectionately called Bastard Child), was only their second brew together.  As a team, they submitted two similar recipes, adding tarragon plus a few other secret ingredients to the second.  As it turns out, the original recipe was the Heavy Seas favorite!
Style: Dubbel. Brewed w/ 6 grains, 3 noble hops.
Availability: 22oz bombers, Draft. 1 time brew.
8% ABV
For contest details – 2o11 Letter Of Marque Homebrew Competition
Pic: @AleYeahBeer