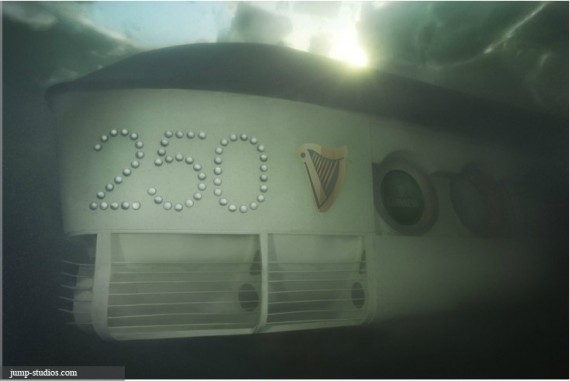 How about a bar underwater?   Guinness did it.  A London based architecture firm Jump Studios renovated the interior of an old submarine to create an undersea bar.   The idea is build around the Guinness branding "Alive Inside."
The engineering result is obvious.  A freaking cool underwater beer bar.  The winner(s) that got to party under the sea with Ariel and Sebastian came from 250th celebration of celebration a few years ago.  As you can see in the image below, Jump Studios sculpted seating and tables into the space, while maintaining the underwater feel.
The first ever Guinness Deep Sea Bar, which recently plunged the depths of the Baltic sea in the Stockholm Archipelago… The solution was a fluid concept, constructed from GRP (glass reinforced plastic), that captures the feeling of being 'immersed in a dynamic, flowing experience'.
We worked alongside carpentry and engineering specialist Nicholas Alexander on the construction of the interior, which had to meet stringent marine specifications on matters such as ventilation and fire safety, while also satisfying the operational requirements of the submarine.
The winners were flown to Belgium and then plunged to the bottom of the Baltic Sea.
Below: The pimp interior.
More from the side.