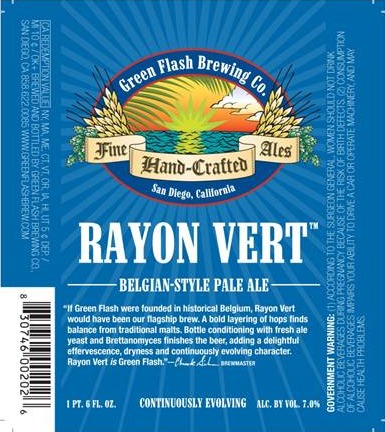 "CONTINUOUSLY EVOLVING" OVER TIME … A RISKY NEW ALE DEBUT CAPTURES SPIRIT OF BREWERY
Inspired by Pre-War Abbey Ales, New Release Marks A Green Flash Milestone
San Diego, CA – November 3, 2011 – Green Flash Brewing Co proudly announces the national release of Rayon Vertâ"¢. The craft brewery's breakthrough Belgian-Style Pale Ale will be available in stores by January 2012. The launch marks the end-result of a meticulous process that has been in progress for over 4 years. As a specialty brewer, Green Flash has a cult-like following among beer enthusiasts because of their team's commitment and passion for crafting cutting edge beers that are unforgettable, pioneering and distinct. Over the years, the signature style of the craft brewery has evolved, influenced by forward-thinking trends and innovative production techniques. One increasingly significant source of inspiration for the team has been the Belgian Abbeys and their flagship ales. The idea to make Rayon Vert was sparked by a self-imposed challenge: produce a Belgian-Abbey style ale to unmistakably express the spirit of Green Flash if the brewery were producing just one beer and operating under the conditions of pre-WWII Belgium.
Known for pushing boundaries and taking chances, Green Flash is introducing Rayon Vert to the national consumer as an ale bottle-conditioned with wild-yeast, packaged in single serve 12 oz. bottle 4-packs. This exceptional new ale is the brewery's most complex endeavor to date. Everything from the ingredients & artistic production process, to the packaging remains true to the era of inspiration. Because it is bottle-conditioned with Brettanomyces, the beer's flavor is "continuously evolving," which means there are countless unknown variables that would make most breweries shy away from such an undertaking. So, like most Green Flash beers, there is not anything like it on the market; Rayon Vert is the only year-round front-line beer in the US of its kind.
"When we initially challenged ourselves to create the Green Flash version of a flagship Belgian, we were uncertain as to how the process would unfold. It started by asking ourselves, 'What would Green Flash be if we brewing in Belgium 80 years ago?' Rayon Vert is the culmination of our entire team's inspired dedication to the process," says Green Flash co-founder, Mike Hinkley. "We worked on the concept and beer for four years, and as Green Flash evolved, so did Rayon Vert. So much went into the beer that it is one of my proudest moments, to finally release Rayon Vert. It signifies a major milestone for Green Flash."
Everything from the 2010 re-design of Green Flash's distinctly heavy 12 oz bottle (which can withstand the high levels of natural CO2 conditioning associated with Belgian Ales) to the choice of packaging as a four-pack rather than a traditional six, are decisions the brewery made in preparation to release Rayon Vert. The team – including husband and wife owners Mike and Lisa Hinkley as well as Brewmaster, Chuck Silva – traveled to Belgium for hands-on inspiration. They visited many Belgian breweries on their way to collaborate with 150 year-old family owned Belgian brewery Brasserie St-Feuillien on Bière de l'Amitié, which means Friendship Brew.
"After experimenting with many variables to create the definitive signature Belgian-Style Pale Ale, I ultimately settled on using a yeast that is unique to Green Flash for the base character and further developed the beer from there," explains Green Flash Brewmaster Chuck Silva. "Keeping the ingredient list simple seemed to be the best approach," he continues. "Focusing on hop complexity was always in the forefront, but how to finish the beer was the unknown challenge. We grew inspired by Saison and Belgian Ales that finish dry and have a slightly wild character and we made the bold and risky decision to launch this new, Green Flash front-line beer with Brettanomyces bottle conditioning."
The risk factor comes into play because the wild strain of yeast has the potential to contaminate the brewing lines and it must be handled with extreme care and know-how. There is no room for error.
Like most Belgian Pales from this era, Rayon Vert is distinctly aromatic, effervescent and light in body. It is dry, crisp and refreshing with notes that are fruity without being sweet and has a toasty quality that is true to the period of pre-WWII Belgians. An ideal, full-flavored, everyday ale, it can be enjoyed year round. Rayon Vert is cleansing to the palette and pairs well with a diverse range of foods like cheese and charcuterie, dried fruits and even hearty stews. Because it is bottle conditioned, the beer will continue to change with age and there is no way to foresee what it will taste like after years in the bottle. Silva predicts that the results from this ageing process will be akin to Champagne. He is convinced that Rayon Vert left to rest in the proper conditions will only improve over time.
However, Hinkley makes a strong point that perfectly describes the bold move to debut this beer in spite of the significant risks involved: "With the release of Rayon Vert, we move forward confidently, but without certainty." This statement is as much about Green Flash as a brewery as it is about the new release, and it is this sentiment that truly captures how, after years of trial and error, this beer came to be the one. Rayon Vert is Green Flash. The beer conveys the rare spirit of this groundbreaking brewery with incomparable style and an unparalleled fortitude that comes through with each unforgettable sip.
About Green Flash Brewing Co.
Green Flash Brewing Co., is located in San Diego, California, and was founded in 2002 by Mike and Lisa Hinkley. Brewmaster, Chuck Silva, leads brewing operations. Green Flash is an award-winning brewer of fine, hand-crafted ales, and specializes in brewing assertive and distinctive beers, such as the nationally acclaimed West Coast I.P.A.: an award-winning beer whose wide acceptance has helped define a category. Green Flash brews ten styles of beer regularly, on draught and in bottles as well as a growing lineup of seasonal and special offerings, including several barrel-aged beers, throughout the year. Please visit the Green Flash website  http://www.greenflashbrew.com  for more information
###