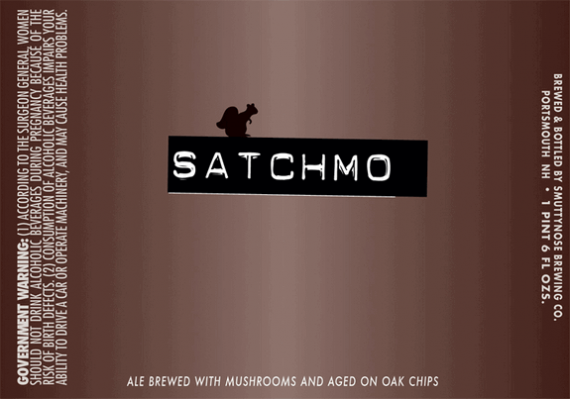 Smuttynose Brewing Satchmo.  Ale brewed with mushrooms, aged on oak chips.  The 13th addition to Smutty's Short Batch Series.
Satchmo is a low-gravity, lightly hopped brown porter that gets its unique mouthfeel from 35 pounds of dried black trumpet mushrooms. Our first collaboration brew was made with Chef Evan Mallet, of Portsmouth's Black Trumpet Bistro. Chef Mallet, an avid mushroom forager, suggested the idea, and with the help of his staff, collected a portion of the black trumpets from his land in South Berwick, Maine. Satchmo will be released in our Short Batch Series in early November and will be on tap at Chef Mallet's restaurant in Portsmouth's historic water front. We will also bottle a small portion for sale exclusively at Smuttynose.
Availability: 22oz bombers. Released at Portsmouth Black Trumpet Bistro, & Brewery Arrival: November, 2011
4.75% ABV, 25 IBU
Thx to Matt Hunt for detail heads up..