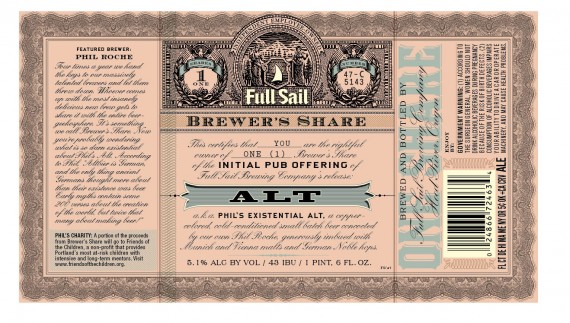 Back in 2008, Full Sail Brewing decided to allow their brewer's to experiment and make some beers of their own.  Some were so good that they decided to make them available to the public.  These beers are now known as the Brewer's Share Series.  The second of these beers to be released, Phil's Existential Alt, will be available this month.  The beer was brewed by Full Sail's Phil Roche and will be released in 22oz. bottles and draft.
Phil's Existential Alt was brewed with Vienna and Munich malts as well as plenty of German Noble Hops.  It clocks in at an easy drinking 5.1% ABV with 43 IBU's.
Phil has this to say about the beer he created…
"Altbier is indigenous to Dusseldorf and Neanderthal man is indigenous to Dusseldorf. The ancient Germans thought a lot about their existence. Early myths contain some 200 verses about the creation of the world. The ancient Germans thought even more about beer, with 400 verses about beer making. "Phil's Existential Alt" celebrates our existence through our most celebrated beverage…beer!"
Each Brewer's Share beer also supports a charity picked by that brewer.  This particular edition will benefit Friends of the Children.  The organization provides mentors to vulnerable children in the community.