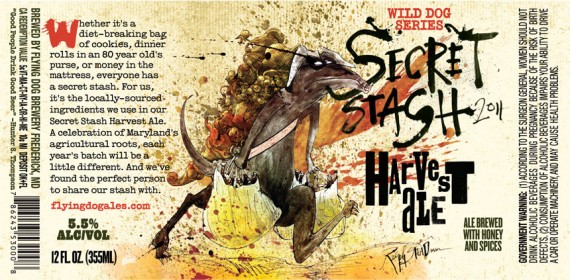 A new one from Flying Dog – Secret Stash. A "Wild Dog" series release. The beer will change each year, featuring locally sourced ingredients.
Label:
 Whether it's a diet-breaking bag of cookies, dinner rolls in an 80 year old's purse, or money in the mattress, everyone has a secret stash. For us, it's the locally-sourced ingredients we use in our Secret Stash Harvest Ale. A celebration of Maryland's agricultural roots, each year's batch will be a little different. And we've found the perfect person to share our stash with. Brewed with honey and spices. 5% ABV / 12 oz. bottles
Style:  Unknown
Availability: 12oz bottles, draft.
Arrival: Late Summer, Fall 2011.
5.5% ABV