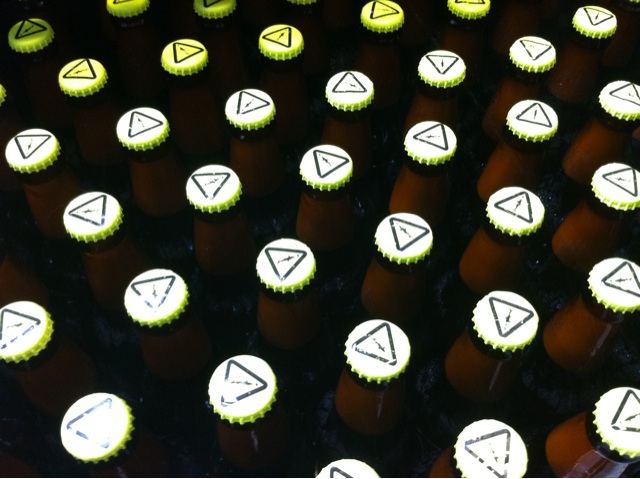 Dogfish Head Brewing sent out a cryptic tweet (well not so cryptic) about what they were bottling today. If you've seen these bottles then you already (above) then you know what's up.
Those of you that watched the 6 5 episodes of Brew Masters, you saw the hard breaking news that a very expensive batch of 120 had to be poured down the drain. If my beer memory serves me correctly, the batch right after that didn't pass flavor muster either.
As we learned today, another batch of the coveted imperial IPA is headed for shelves. Dogfish has this to say about this years batch:
[quote]
So we took our time tweaking the recipe, lots of time. We brewed multiple test batches at our R&D brewery inside our Rehoboth Beach brewpub. We put at least two of those batches on tap. We took a lot more time than many of you wanted us to take. We've answered thousands of emails, Facebook and tweets about the 120 Minute IPA over the last year and half. Months ago, we stopped guessing when we'd re-release the beer and just started replying with "we don't know, but we're working hard on it."
We have been working hard on it. Pretty much every team in the brewery is excited to have the beer coming off the line today. There was a collective sigh of relief and a lot of excitement as Chad handed off the first bottle to come though the line. Thanks to all my co-workers at Dogfish Head who played their part in this re-release – you all rock
[/quote]
While this beer is usually brewed in 400 barrel batches, this edition was brewed in a much smaller batch. To the tune of 100 barrels. Expect it in the following states:
These are the states that WILL be getting limited 120 Minute IPA:
DE, MA, ME, CT, NY, WA, OR, AZ, NV, FL, NJ, VA, MD, KY, MI, IL, PA, Washington DC.
Sadly, no Georgia. (Stupid 14% ABV limit)
120 Minute is an imperial IPA that clocks in at 18% ABV.
Availability: Occasional brew, sold by the 12oz bottle. $10-12 retail