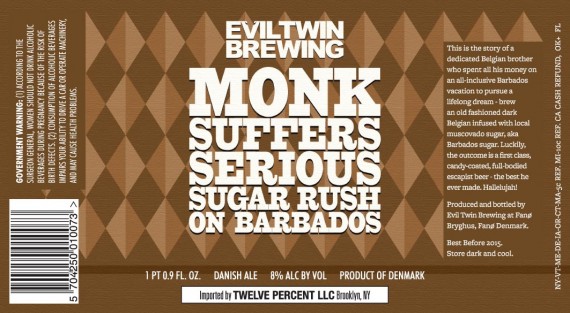 Evil Twin Brewing (Denmark) launched in the United States back in April.  The launch beers included :Before, During, & After Xmas, Soft Dookiee, Disco Beer, Yin, & Yang.   Tasty, yet fairly expensive, Evil Twins beers have been quite well received.  (Soft Dookiee is a bit scarce.)  Also Evil Twin has done a little logo tweaking.
2 more brews (with fairly lengthy titles) are being added to the U.S. lineup.
Monk Suffers Serious Sugar Rush On Barbados – Belgian Strong Dark, 8%.
This is the story of a dedicated Belgian brother who spent all his money on an all-inclusive Barbados vacation to pursue a lifelong dream – brew an old fashioned dark Belgian infused with local muscovado sugar, aka Barbados sugar.  Luckily, the outcome is a first class, candy-coated, full-bodied escapist beer – the best ever made.  Hallelujah!
Best Before 2015.
Without You I'm Nothing – Sour Ale, 6.2% ABV
You know the story, a dull-looking guy – he is dry, maybe a tad overweight and let's face it, not very charming.  But somehow he hooks up with a piquant, profound, and very attractive girl.  She finds him oh so down to earth, loyal, and cute, and even though it's such an odd parade, they make a very interesting and charismatic couple
Best before 2015.