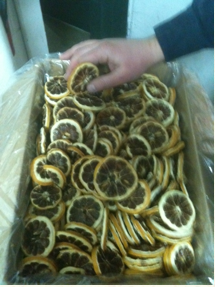 Dogfish Brewing is experimenting with lemons.  A test batch of "Dry 90 Minute IPA" was sold recently at the brewpub.  Seems like it was a success, and more experiments like this are on the way.  Looks like DFH hopes to launch a new beer based on the experiments soon.
From Dogfish's Blog:
A few months back we did an experimental batch of a big hoppy dry IPA we called DFH Ale. We've sold it in and around our immediate home turf and we've all loved that beer (and so did many of you judging from the emails). Drier than 90 Minute IPA and with explosive hop aromas. We've also recently been playing around with whole dried orange slices in our Namaste. Usually wheat whites are brewed with just the peel but these chunks of dried actual fruit flesh really turns us on. So, we found out the company we get the oranges from also does supernatural chunks of lemons. We like the way the lemon flesh compliments the citrus notes of centennial hops and we have a very special music-related project for which we think the lemons, centennial hops and the DFH Ale dna will create the perfect crossroad of awesomeness – so we're putting all three together. Today we do the test batch here at the Rehoboth brewpub and in May we hope to launch big bottles in full distribution.