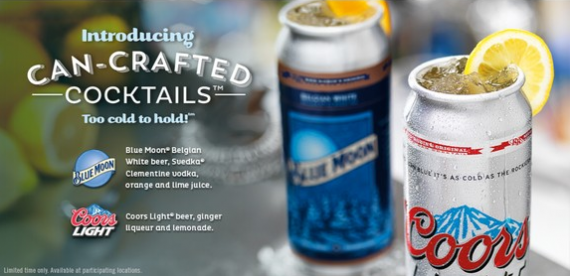 Anyone who's heard of a Michelada knows that beer cocktails aren't a new thing. Beermosas and beeritas are popping up on beverage menus across the country. Now, Red Robin is embracing the trend with their new Can-Crafted Cocktails.
· Coors Light® Can-Craftedâ"¢ Cocktail — A mixture of Coors Light, ginger liqueur and lemonade topped with fresh squeezed lemon
· Blue Moon® Can-Craftedâ"¢ Cocktail — A refreshing combination of Blue Moon Belgian White, SVEDKA Clementine vodka, orange juice and fresh lime juice
Earlier in the week Molson Coors reported their Blue Moon accounts for 10% of the craft beer market, so the cocktail isn't a bad move on their part. Plus, now Coors Light will taste like something!