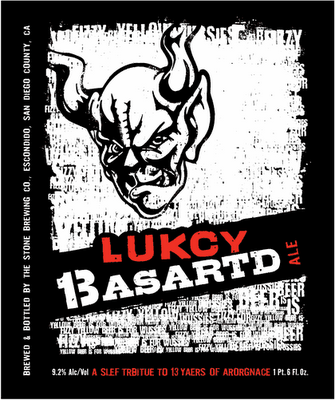 No grammar peeps.  That's not misspelled.  That's the name.  It makes perfect sense if you know Stone Brewing (Escondido, CA)  and their labels.  It's been a while since we've seen a truly new Stone beer.  I'm not saying that like a bad thing, there is very little (if anything) from the brewery that I didn't like.  2010 marks the 13th year of Stone's "Arrogant Bastard" an American strong ale.  You should have seen Oaked Arrogant Bastard and Double Bastard by now too. (If not, store. NOW. You have homework to do.)
To mark the occasion, Stone is releasing "Lukcy Basartd Ale" to celebrate 13 years of arrogance. All the "bastards" will come together in in what the brewery grammatically butchers as a "cuvee de Bastard."  Lukcy Basartd will blend Arrogant Bastard, Oaked Arrogant Bastard, and Double Bastard into one bold beer.  I can only imagine this will be Stone's boldest most arrogant Bastard yet.
Style: American Strong Ale (blended)
Availability: 22oz Bombers. Draft.  All markets where Stone is sold.
Arrival: November 2010
8.5% ABV
Stone created a website for this beer.  http://arrogantbastard.com/13th/