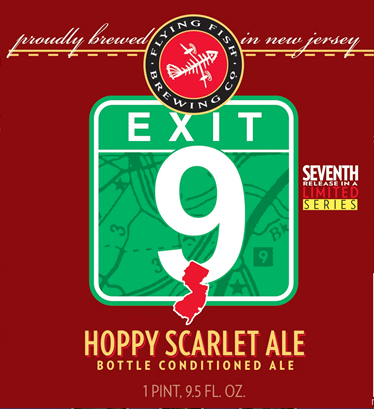 Headed your way in March from Flying Fish Brewing is Exit 9.  Exit 9 aka "Hoppy Scarlet Ale" is the 7th release in Flying Fish's limited release series.
Commercial Description:
Stop seven on our multi-year trip to explore the state of New Jersey through its beer and culture, is Exit 9, best known as the Rutgers University exit.  The state's university.  Rutgers began in 1771 with classes held at a local  tavern, through 1810 students were banned from frequenting local  "beer & oyster" houses."  Alumni include Nobel Laureates, astronauts, brewery founders, authors, actors, and perhaps most notably, the cartoon character Mr. Magoo.
To celebrate Exit 9, we brewed a richly favored red beer crafted with a variety of domestic and imported malts and a classic American yeast strain.  Assertively hopped Amarillo, Centennial, Chinook, and Citra, the bouquet has complex notes of citrus and tropical fruits, with an appropriate bitterness in the finish.  Serve it with spicy foods (try gumbo or curry), a rich blue or sharp cheddar cheese or enjoy it by itself.
Style: Red Ale
Hops: Amarillo, Centennial, Chinook, Citra
Arrival: Early March 2011
9% ABV