Clown Shoes Brewing (Ipswich, MA) has quietly entered into Georgia. Distribution is limited – right now the only retailers carrying it are metro area Total Wines. Below are list of brands that are either in stock, or slated to be in stock in the future. Quality Wines is the distributor.
Clementine (In stock)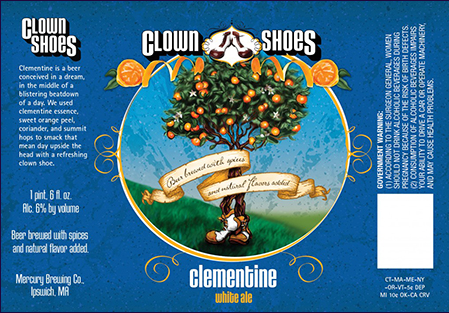 Clementine is Clown Shoes Beer's Belgian style White Ale. Light-bodied and crisp, this is a terrific White Ale with plenty of zest! Hazy in appearance and healthily carbonated, it utilizes Chambly yeast to energetically shape its wheat malt base. Incorporated in the brewing process is Clementine, sweet orange peel, a hint of Coriander, and Summit hops.
Brown Angel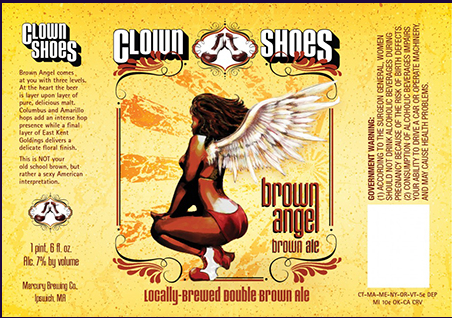 Brown Angel was designed to have three distinct levels: a dark brown backbone with notes of chocolate and coffee resulting from the use of 1500 pounds of Maris Otter malt, aggressive American hops (Amarillo and Columbus) provide bitterness and some citrus, while a more delicate floral finish is achieved from the use of the classic English hop, East Kent Goldings. This is NOT your old school brown, but rather a sexy American interpretation. At 40IBUs and 7% Alcohol it goes down sneaky fast.
Hoppy Feet (In stock)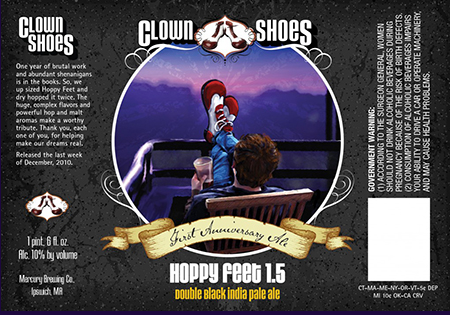 Hoppy Feet has been lovingly crafted by combining Premium malt with lots of Amarillo and Columbus Hops. Grapefruit and Pine are balanced on the nose and on the palate by a nutty, dark chocolate, roasted backbone.
Tramp Stamp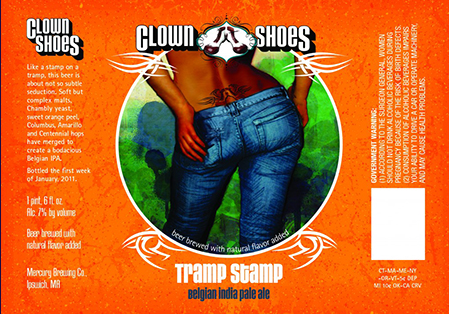 Like a stamp on a tramp, this beer is about not so subtle seduction. Soft but complex malts, Chambly yeast, sweet orange peel, Columbus, Amarillo, and Centennial hops have merged to create a bodacious Belgian IPA.
Muffin Top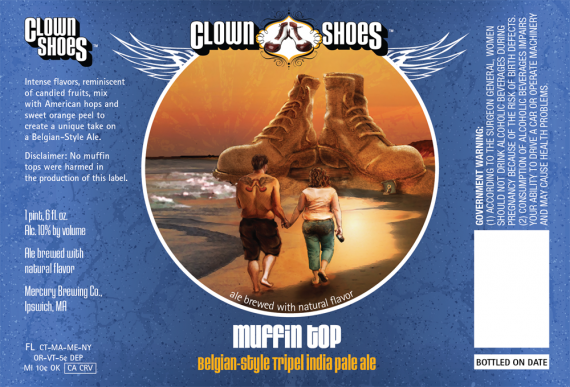 Eagle Claw Fist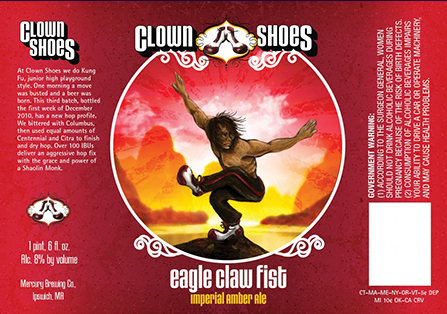 Eagle Claw Fist utilizes the same Chico yeast that shaped Hoppy Feet and Brown Angel. Canadian Two Row, English Crystal, and a little English Black Patent malt provide a sweet, balanced backbone. Simcoe, Centennial, and Citra work together to create a unique hop assault, with an intense bitterness that manages to leave your palate in one piece and is harmonized by the flavors of tropical fruits and flowers. The finish is dry.
Lubrication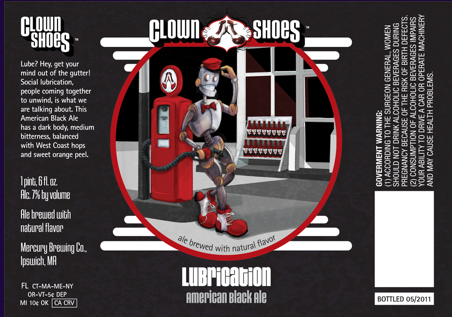 Lube? Hey, get your mind out of the gutter. Social lubrication, people coming together to unwind, is what we are talking about. This American Black Ale has a dark body, medium bitterness, balanced with West Coast hops and sweet orange peel. 1 pint, 6 fl.oz. Alc.6%
Blaecorn Unidragon
A big roasty Russian Imperial Stout for drinking now, or later. (BSJ description)